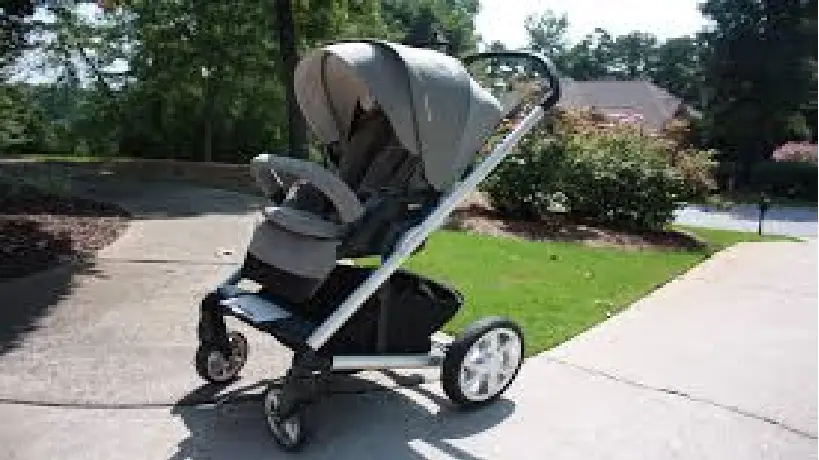 Chirpy Mama;

29 June, 2020

606 views
Best Stroller Organizers for Nuna Mixx [2021 Reviews]
One of the minor issues that the nuna stroller owners have is the need for a stroller organizer for nuna mixx or the tavo. It's undeniable nuna  mixx stroller designers did a commendable job by providing a large storage space underneath the seat.
However, the downside is that you cannot store your coffee safely in it, you must bed to access the storage space and it is not as quick to access as you are out and about with your baby.
The market is full of stroller organizers which are not necessity compatible or functional for a nuna mixx series stroller. And that is why we have reviewed  the best stroller organizer for your nuna mixx or tavo because we have done the heavy lifting for you.
Best Stroller Organizers for Nuna Mixx Reviews 2020
Are you looking for a glam stroller organizer to match your stylish nuna? Or maybe you are shopping for a stroller organizer to keep your keys and phone where you can access them easily? Then get the Itzy Ritzy adjustable stroller organizer.
Itzy Ritzy is a popular brand which produces super cool and trendy products for the modern mom. And this stroller organizer is no different. It is a glam stroller caddy, stylish and practical. 
The coffee and black color with gold accents will match perfectly with your nuna mixx handlebar. The cute design fits well with your super glam nuna as compared to basic stroller organizers. 
The stylish design is also practical with a zippered compartment to place your keys and phone. A middle compartment for wipes and two bottle compartments for your drinks. You will love this strollers organizer for the many compliments you will snug with this beautiful, stylish and practical organizer.
Pros
Stylish design

Zippered compartment for phone and keys

Comes in absolutely beautiful colors- blush pink, coffee and black and black.
Cons
Not as sturdy with for open

Bottle holder not insulated.
Finding a stroller organizer for strollers with angled handle bars is a struggle. This is because the straps keep sliding down and it's annoying. If you have been looking through hundreds of designs and styles a stroller which solves this problem with no success.
This non slip stroller organizer by Swanoo is for you. It is a universal fit with a patented non slip strap which has solved the slipping problem of stroller organizers for stroller lovers.
What's more? It has more than enough storage compartments and light weight at the same time. These are:
Two insulated bottles space,

Zippered pocket, 

An expandable space for wipes dispenser 

A closed deep pocket.
What's not to love about this perfect stroller organizer that will keep your iced coffee cold and safe from spilling.
Pros
Non slip stroller straps.

Practical stroller compartments.

Lightweight.

Very sturdy
Cons
May not match with your beautiful nuna mixx as much.

Material is not of excellent quality
---
See also best parent console for city select lux
---
Whether you are looking to fit your nuna or are looking for a high quality stroller caddy the AJ Keegan stroller is for you. It is versatile and functional just like your nuna stroller.
It comes with a stroller strap which you can attach and carry your caddy with you and a non-slip stroller hook to keep your hands free.
In addition it has VERY deep pockets for your baby bottle and sippy cup. Two front and mesh back pocket for wipes. You will love this stroller organizer for it will add nothing but class to your nuna or tavo stroller.
Pros
Very deep pockets.

Extra sturdy

Additional features – stroller hook and shoulder strap.
Cons
---
See also best cat proof bassinet
---
If you are looking for a minimal stroller caddy that will fold with your nuna mixx, get this JL universal organizer. It has wide straps that fits into any type of stroller to fit your nuna and will perfectly fold with it.
This is a cool feature that will ensure you do not forget a stroller organizer when you take a quick jot out of your home.
You get two bottle compartments, a zippered pocket and open middle space. If you are looking for a minimal design consider this organizer.
Pros
Folds with your stroller.

Wide straps fit any stroller type.
Cons
Unlike all the stroller organizers in this list, this baby stroller organizer has 3 storage compartments with zippers and a middle compartment which closes with a magnet. And two insulated bottle compartments.
This means your items will not fall all over the road or worse hit your baby as they lie in your stroller when your ride gets bumpy. It has an outer zippered compartment to store your phone and house keys. A covered middle compartment to throw in your baby wipes and pacifier. Lastly, a small zip pocket to keep any change.
You will love this organizer for the safety it will provide for your essential items which you carry along with you while out and about with your baby.
Pros
Middle compartment closes with a magnet.

3 zippered pockets.

Insulated bottle space.

Strong velcro strap
Cons
---
See also best bassinet for cat owners
---
Why do you need a stroller organizer for nuna strollers?
The Nuna travel system is a favorite for many parents for its multifunctional features such as adjustable handle bar height to cater tall and short parents and versatility.
Although it comes with a large storage space with a zippered pouch and a divider the location is not so convenient – it is UNDER THE SEAT! Clearly, there are several reasons you will need a stroller organizer for your nuna or tavo.
To Keep your Beverages
You definitely won't be placing your favorite cup of coffee in that large storage space. If you want to take your favorite coffee as you stroll with your baby , you need a stroller organizer with a coffee cup compartment to avoid spillage accidents.
Avoid Bending
Well, we know how bending is no fun for any adult. And due to the low location of the storage space, you definitely need one where you can access your items without bending.
Easy Access
When you are out and about with a baby. You need to have easy and quick access to baby items such as wipes at moments notice. The large storage space provided for nuna is frankly not convenient in terms of access.
Things to consider when choosing the best stroller organizer for nuna
Material.
You need a stroller organizer made of durable and aesthetically pleasing material. So that it compliments your super sleep nuna stroller and lasts as long as your stroller serves your family.
Storage Compartments.
Consider few and functional pockets enough to keep items we need at quick notice. If it has at least 2 bottle / coffee compartment, zippered key or phone holder and a place for wipers.
Design
.
Choose a design which compliments your sleek nuna travel stroller. Check for a minimal but clean design. Avoid many compartments and hanging compartments because you already have a storage space that is large enough to hold a whole diaper bag worth of supplies. 
Weight
.
Consider a lightweight stroller organizer. Nuna strollers are all versatile and can fold almost flat but they still can be a little on the heavier side for most parents. You do not want to add any extra weight.
Handle Attachment.
The attachment to the handle bar of your stroller organizer should be sturdy so that it does not slip off. This is especially because the handle bar of nuna strollers are made with a cloth material resembling leather.
Easy to Clean
Consider an organizer that is easy to clean. Because you will be out and about with your stroller it will attract dust. 
Additional cool features
You should also look out for features which will compliment your nuna such as a stroller organizer which folds up with the stroller, stroller hooks and insulated cup holders.
Conclusion
There you go! You can choose the best stroller organizer for your nuna mixx or tavo from the 5 listed above. Just make sure it is of a glam design, has insulated bottle holders and is sturdy.