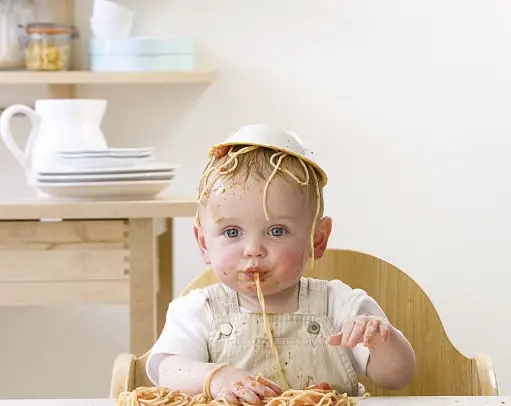 Chirpy Mama;

22 February, 2022

1998 views
Clean Eats: The Very Best Toddler Plates, Bowls, Cups, Silverware And Placemats
Is your little one ready to advance from breastmilk or formula and into the exciting world of real food? Congratulations mom and dad! You're finally ready to toss that last remaining bottle of formula into the recycling bin and say "adios!" to the endless pumping parts (but seriously! So. Many. Parts.) Now what? Surely your little one will need some (non Comotomo brand) tableware that is tailor made for his/her little hands, and able to stand up to his/her (not so little) mealtime tantrums, but where to start with the seemingly endless options? Fear not moms and dads, because while I can't help you with the "I DON'T EAT GREEN!" dinner time meltdowns, I *can* provide you with this handy roundup of the very best toddler plates, bowls, cups, silverware, and placemats.  Bon appetit!
A favorite in our house, these are the best toddler plates. They're lightweight, dishwasher and microwave safe, BPA free, deep walled (perfect for little ones learning the fine art of spooning their food!), and made from eco-friendly recycled materials. They also come in approximately 28365 colors, so you're sure to find something to please your little one.
The bowl version of the plates I reviewed above, these bowls have all of the same amazing features of the plates *and* can be re-purposed as little containers to hold all of those teeny tiny little toy pieces that all toddlers seem to mysteriously accumulate.
This 15 piece flatware set is truly everything you need for your little one's culinary adventures! The forks, knives, and spoons are perfectly sized for toddler hands, and made out of a high quality stainless steel without any nickel. Moms and dad's will love that it's dishwasher safe, rust-proof, and encourages mealtime sensory play with safe non-serrated knife blades and deep spoons. Kids will also love the cute fruit shaped design and wide handles, making mealtime a cinch!
What's *not* to love about this gold standard cup from the trusted Munchkin brand?! Coming in 4 fun, bright colors, these cups are wide based to allow those small toddler hands a strong grip, and have a removable training lid once your little one masters the fine art of drinking out of a "big kid" cup. Made from BPA free materials and dishwasher safe, these cups are a long standing favorite of both parents and kids alike.
Now that your little one has a place at the dining room table, the epic, inevitable food spills might be too much for your beautiful table to withhold. With this ingenious disposable, stick on placemat, consider your problem solved! BPA and PVC free, these placemats have adhesive strips on the back to ensure no slippage, and come in a set of 60 so every meal and snack time is covered…and protected! These are also ideal for those fun, yet super messy, arts and crafts projects (I'm looking at you, PlayDoh!). Priced at about $0.25 per placemat, you can't go wrong with keeping a set of these at all times!