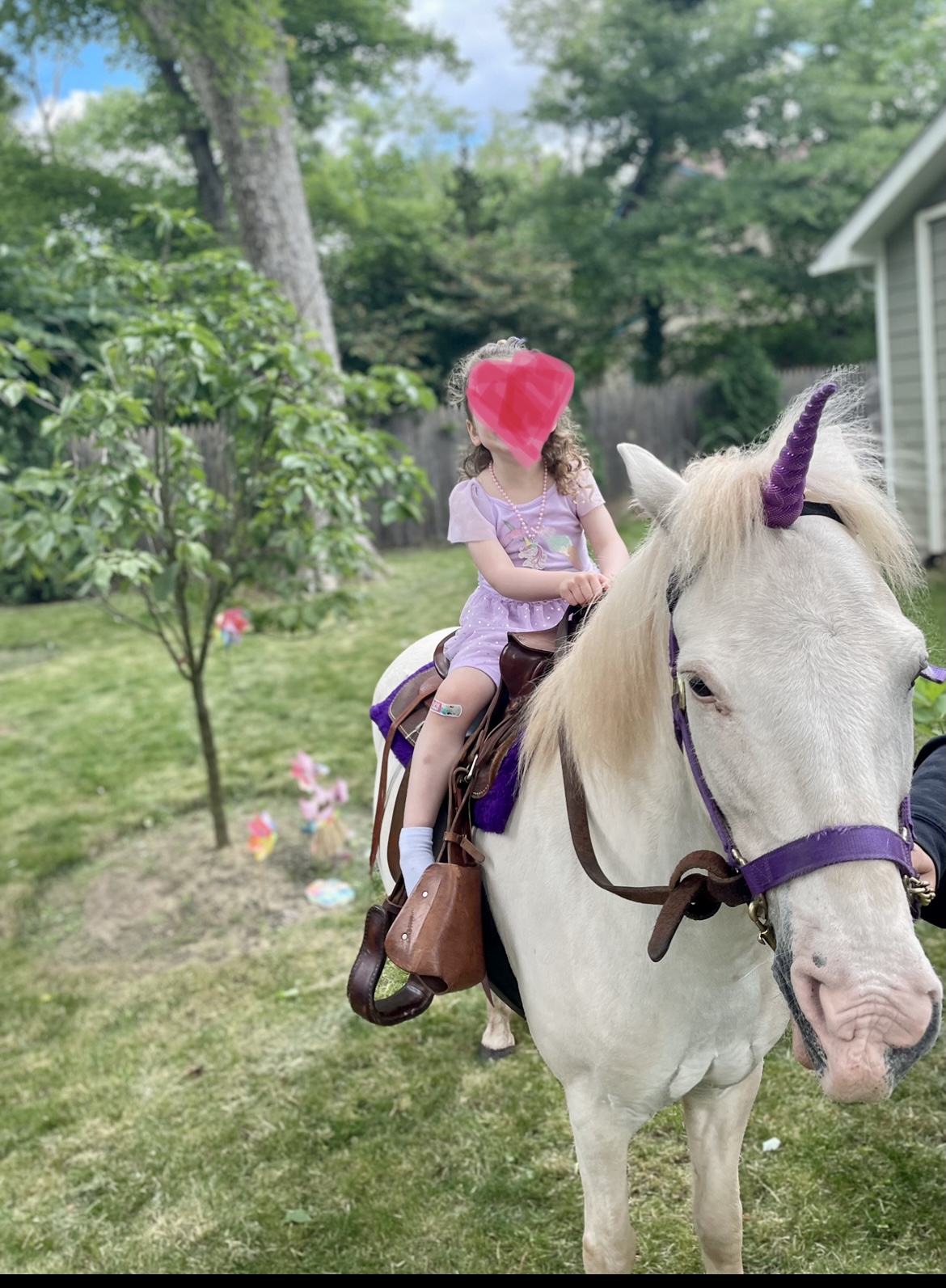 Chirpy Mama;

2 December, 2022

352 views
Unicorn Magic: The Ultimate Guide to All Things Unicorn
Is your little one as utterly obsessed with unicorns as my daughter is (case in point, please refer to the picture of my daughter riding a *real* unicorn, aka the best day of her life)? If your child, like mine, can't get enough of the magical little ponies, then this post is for you! I've rounded up an exhaustive list of all-things-unicorn related that is sure to please, and is inclusive of all price ranges so you can be sure to please this holiday season!
This is the exact set that I bought for my daughter's room when she upgraded from a toddler bed to a "big girl" full size bed, and almost 2 years later, I'm happy to say that it has held up beautifully and is the perfect "weight" to keep you cool enough in the summer, yet nice and toasty warm in the winter. Despite the inevitable 9475 washings/dryings, the color has stayed vibrant, *and* the best part is that it's reversible (the other side is a plain purple pattern), so it's like getting a 2-for-1 that she can enjoy for years to come.
Barbie Dreamtopia Magical Unicorn
Combining Barbie with unicorns is basically a no-brainer, genius combination, and this set definitely does not disappoint! This *magical* set comes with a Barbie and her unicorn, which lights up up when you pet it and makes real life chomping sounds when you feed it the ice cream cone that it comes with. Both the doll and the unicorn are covered in rainbows, which is sure to both delight your little one and create endless hours of imaginative play! I gave this to my daughter for her birthday and she plays with it almost everyday, and loves introducing her unicorn to her other horses to show them how "magical" she is!
This series, by author Amy Krouse Rosenthal, is a beautifully written story about the power of make believe, and the ability to make your dreams come true. The book I've linked is the original, but with lots of other books in the series to choose from (Uni Bakes a Cake, Uni and the Perfect Present, Uni in the Real World, Uni Goes to School…the list goes on and on), you're sure to find a subject matter that will entertain your little one!
This unicorn dig kit was given to my daughter from one of her preschool friends as a birthday present, and when I say it was a big hit, I mean I have been scouring ever since for similar items! The tools this beautiful little kit comes with helps her practice her fine motor skills while she gets to retrieve 12 sparkly charms, and a bonus necklace with a unicorn charm! All that chipping away can get a little messy, so definitely plan to do this one either outside, or on a surface you can easily wipe and wash.
My Little Pony Sunny Star Scout Sing and Skate
Let's face it, it wouldn't be a post about unicorns if it didn't include a My Little Pony reference, and this toy from the New Generation series is fantastic! Sunny Star Scout "magically" sings and skates in all different directions, which is controlled by your little one via the microphone. My daughter loves to sing into the microphone along to the pre-programmed songs, and is fascinated how a simple flick of the wrist makes Sunny move directions, or even twirl in circles!
Giant Unicorn Squishy Stuffed Animal
What is it with kids and squishmallow-ey stuffed animals? If your little one is as obsessed as mine is, they will love this giant unicorn plush. Need a little more room on their bed? This doll also comes in 2 smaller sizes, so you can choose a size to fit your little's one bed, and they can get their bedtime squeezes in with this sweet little softie.
Bentgo Unicorn Reusable Ice Packs
If your child is anything like my daughter, unicorns are *life*, and as such, she can't POSSIBLY go anywhere with at least some form of unicorn representation! Insert these adorable little reusable ice packs from the trusted Bentgo brand. Arriving as a 4 pack, these are perfect for popping in your little one's lunchbox, or using as an on the go cooling option for those long road trips, etc. My daughter takes these in her lunchbox to preschool and everyday when she comes home, these little powerhouse ice packs are still cold!