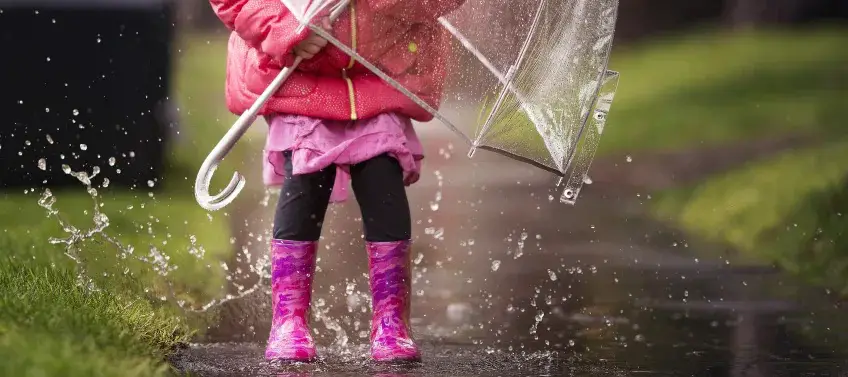 Chirpy Mama;

25 March, 2022

570 views
April Showers: The Very Best Rainy Day Toddler Activities
April showers may bring May flowers, but they can also usher long days filled with endless toddler cries of "I'm bored!" and "mommy mommy mommy mommy"-esque pleas for entertainment.  Unless a marathon of Disney movies is in the cards (which, no judgment…we have *all* been there!), you'll probably want to break up the day with some fun, low maintenance, inexpensive activities that will not only entertain your toddler on rainy days, but for many years to come! Your little one will get some sensory stimulation, and you, mom and dad, will (hopefully) get a few blissful minutes of uninterrupted play time.  Here's my tried and tested roundup of the very best rainy day toddler activities:

Sensory bins are easy to make (or so I've been told by my more, ahem, "creative" minded parent friends), but let's face it: as a busy working mom, I just don't have the creativity/time/inclination to make my own sensory bin. Enter Creativity For Kids, who had the genius idea to create PRE-MADE sensory bins in a whopping EIGHT different themes to choose from! Whether your toddler wants the Outer Space Kit, the Dinosaur Adventure, the Ice Cream Shop, and Ocean and Sand kit, or any of the other wildly entertaining options, this brand has you covered! Just dump all of the enclosed materials/toys into the  larger bin, and then sit back and let your toddler spend HOURS working on their sensory play, fine motor skills, imaginary play, and so much more! The sand component is actually more of a kinetic, magnetic sand, so fear not moms and dads who hear the word "sand" and "indoors" and immediately start sweating!  Best of all, when they're all done playing, you just put the lid on the bin and it's ready for next time!

It would not be an exaggeration to say that, of all the toys my 3.5 year old has EVER received, *this* Battat Big Red Farm Animal Playset might just be in the top 3 rotation for 2+ years and counting! This was gifted to us when she was about 1 year old and she has consistently played with it at least every other day, if not every day! Battat is a trusted, family owned brand since 1897 and this sweet little farm house encompasses HOURS of imaginative fun! The barn itself opens up to reveal working doors and animal pens, and also comes with a set of cute little animals and a farmer, though we like to also subsidize with whatever other animals we have lying around (an alligator and a baby shark in a farm, anyone?). The possibilities are endless, and at under $25, this economical powerhouse will have you wondering what took you so long to buy it in the first place!
PlayDoh has been a fan favorite for rainy day toddler activities for years, but for parents, that can also mean trying to find a place for all of those cute little cutout shapes, rolling pins, scissors, and various accessories…not to mention finding a surface for your little artist to actually put the PlayDoh on, lest you not want your couch cushions ruined. Again. Enter this brilliant little product! Serving as a storage center AND a surface space, this all in one table comes with PlayDoh *and* lots of shape cutouts and accessories. Consider it a PlayDoh "hub" where little ones can play and create to their heart's content, then when they're done, everything fits neatly into the two storage bins on either side. Genius, affordable, and sure to bring your toddler hours of fun for years to come!
My daughter was given this for her 1st birthday, and at 3.5 years old now with her very own Barbie Dreamhouse, she STILL makes time to play with this charming little house! Part of the Fisher Price Little People series, this Surprise and Sounds Home is endless entertaining and engaging with it's realistic home sounds (toilet flushing, radio music, oven dings, etc.), and it's working window shades and doors. It has a portable handle at the top and closes for easy storage, and will provide hours of imaginary house play! My daughter likes to use her Mickey Mouse Clubhouse and Daniel Tiger figurines to mix and match with the Little People, but your child can subsidize with whatever their favorite characters are as well for continued fun even as (cartoon) tastes change!

Every little artist deserves a big beautiful canvas to create their masterpieces on, but let's face it: when it comes to toddlers, they can be pretty savage when it comes to paint and crayons. This HUGE mat allows kids to create colors and shapes and stencil drawings to their little heart's content, and the best part is that it's all just water! No worrying about stains, accidental wall painting, or stubborn washable paint that has to be scrubbed off little hands that do not want to be washed! When your little Picasso is done, just let the mat dry off, then fold it up until it's time to paint again. No mess, no fuss, and the fastest art-project clean up you'll ever have!