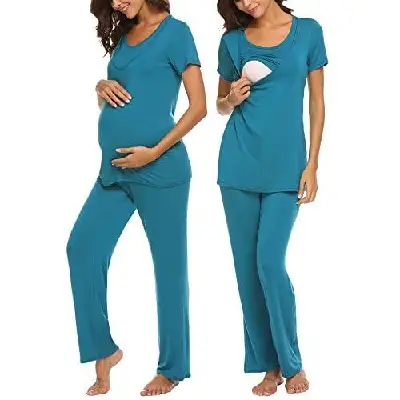 Chirpy Mama;

3 May, 2021

1492 views
Best Pajamas for Hospital after C-Section
The best pajamas for hospital after c-section will be a good replacement to the hospital gown which can be rather exposing for most. The most important feature to look out for when shopping is the fitting and design of the pajama.
Because you will still be swollen from the surgery you need a loose fitting maternity pajama. You can also opt for stretchy maternity jogger pants or lounge pants which you can wear home for the next several weeks.
Remember comfort is key in this case, so if you find the pajamas too tight you can opt for maternity robes. They are comfortable and easy to put on and off and give you full coverage too. Read on for our best picks for your choosing.
Check Out Our Top Picks
Review of Best Pajamas for Hospital After C-Section
You cannot go wrong with these Ekouaer maternity pajamas as they are absolutely perfect for nursing and super comfortable. It is made from a super soft, high stretch, lightweight fabric for new moms.
The pajama top is lace trim, round necked with buttons for easy breastfeeding. Their pajama bottoms have an elastic band waist and  a buttonhole sizer built into the waistband so you can size it up or down to preference. Best of all they have two pockets.
We highly recommend these for c section moms. They are comfortable, soft and super stylish. Plus with the adjustable waist you can fit it well above the c-section incision. And can be worn way after you heal and snap back.
For mamas who prefer long sleeves, this Ekouear maternity sleepwear pj set will be perfect for hospital after c-section.The pants are incredibly soft and stretchy perfect for accommodating the undergarments you will wear after delivery.
The adjustable waistband will enable you to be comfortable and wear it after postpartum. The top is also breastfeeding and pumping friendly when in company. It both button downs and has side slits for night feeds. What more could a mama ask for?
These will be perfect for after c-section because nobody wants to be wearing an itchy, ugly hospital gown. They are super stretchy and perfect over your c section and to add icing on these, they come with pockets. You cannot go better than these really!
---
See Also Best Adult Diapers for Postpartum
---
If you are shopping around for a 3 piece pajama set perfect for after a c-section look no further than this Bearsland maternity pajama set which is available in all colors you can think of actually.
It has a half sleeved cardigan, breastfeeding top and pants.It has a genius adjustable waistband and the pants can ride way up the waist perfect fitting for wear during c-section recovery. And the top is double layered on the front to make breastfeeding a breeze.
This pajama set is both comfortable and flattering. You should expect compliments from both staff at the hospital and friends. You can lounge in the top and pants and if an unexpected visitor shows up, simply throw on the cardigan. Get these for not only at the hospital but around the house wear.
Ekouaer has quickly become a popular sleepwear brand on amazon simply because they make chic and comfortable designs. And this lounge maternity pajama pants are perfect for hospital after a c-section. 
They can go over the waist easily and provide belly support. The stripped pattern is also so chic and can be paired with your preferred top or nursing tank. The waistband is adjustable for a comfortable fit too.
Consider these if you are looking to add to your lounge wear for post c-section as you recover. They are easy to care for and can be paired easily with items found in every pregnant mamas wardrobe.
---
See Also What to wear while breastfeeding
---
This casual pair of pants by Liu & Qu  is on this list for those who would like a pair of pants that they can sleep in, lounge or wear out too dring recovery. They are not super thick or thin so the material is super comfortable and stretchy.
They also come with pockets and are more fitted but not as tight as a jegging because even after a c-section you will pretty much be bloated and swollen.Best of all they are available in several colors for your choosing as a perfect pair for those recovery weeks.
We highly recommend these for hospital and around the house wear during recovery. These are super comfortable pants for recovery and best believe you will want another pair after getting the first. They will not irritate your incision and are super soft for lounging.
---
See Also Nursing Tank Top Without Built In Bra
---
Conclusion
The best pajamas for hospital after c-section should fit above your waist to avoid irritating your incision but also be comfortable to accommodate your postpartum body. 
We highly recommend Ekouaer women maternity pajama set for you as it is comfortable, nursing friendly and has an adjustable waistband to fit above the incision point. They are also chic and available in several colors for your choosing.