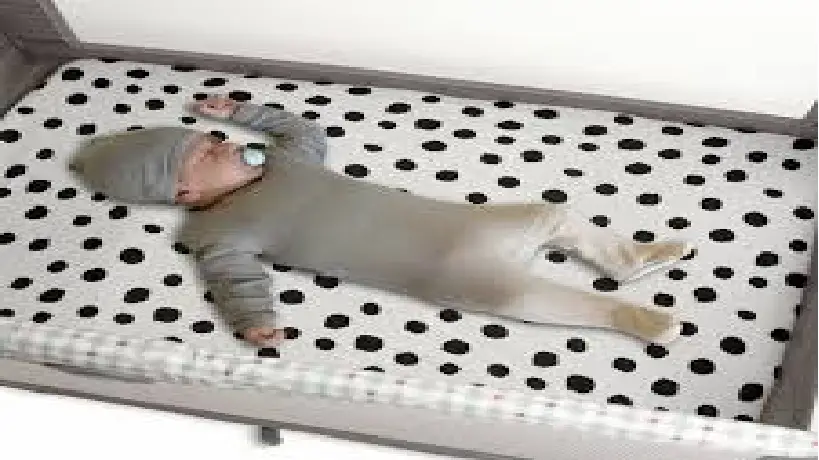 If you are thinking about buying sheets for your pack n play and are not sure whether crib sheets would fit then this article will guide you on what to look for when buying sheets for pack n play.
Do Crib Sheets Fit Pack n Play? The simple answer is NO, because the standard crib sheet size is 51 ⅝ inches long by 27 ¼ inches by 5 ½  inches thick and will not fit the mattress pad which comes with pack n play. 
This is because they are smaller measuring about 25.5 inches by 37.5 inches by 1"-5" depending on the brand. Meaning that you will need to purchase sheets which are specifically sized to fit the relatively thin mattress pad that comes in a pack n play.
Why should you get fitting sheets for pack n play?
You probably wondering why you should get snug fitting sheets and not the regular cribs sheets. Below are the reasons why.
Safety.
Babies tend to move around a lot when they sleep. And if the sheets you are using a not well fitting, you pose a suffocation, overheating and tangling hazard to your dear baby. You would rather be safe than sorry when it comes to your babies safety especially when they are sleeping.
Avoid bunching
. 
If you buy specific fitting sheets for your pack n play they will snugly fit your mattress pad. Otherwise standard crib sheets will be a pain to use because you will have to tuck the sides in at the corners and they will get wrinkled or worse bunch up.
Comfort
If you are using your pack n play as a regular crib for an all night sleep or naps. You will need to make the pack n play more comfortable for sleep for your  baby. And getting sheets that fit well will give your baby much needed comfort for quality sleep.
---
See also How to make a pack n play more comfortable
---
Things to look for when buying sheets for pack n play?
Size
As a tip, you can measure the size of the mattress pad or mattress you have purchased for your pack n play to know the exact size. Most mattress pads measure 25.5 inches by 37.5 inches by 1"-5"depending on the brand. Armed with this information you will shop for a well fitting sheet size, not too big or loose fitting.
Material
The sheets you choose for your baby should be soft and gentle on their skin. Consider buying organic cotton sheets or hypoallergenic materials. This is because babies skin react to chemicals used in non organic sheets causing rashes. So make sure the material is also breathable to prevent excessive sweating.
Thickness.
The sheet should not be too thin because the regular mattress pad in pack n play is thin too. However, you can decide to purchase a waterproof mattress cover to put under the sheet to add cushioning for a more comfortable surface. A quilted sheet is also a good alternative to add cushioning.
---
See also Do you need a mattress for pack n play
---
Care Instructions.
The sheets should be machine washable , quick drying and easy to care for. Avoid sheets which may require special detergents and separate washes so that you can save on laundry costs.
Durability
The sheets should be durable made from durable materials such as cotton because they will be undergoing regular washes. They should have strong stitches and not ball up after washes. 
What are the best sheets to buy that fit pack n play?
These are great that fit pack n play perfectly better than any other brand of sheets in the market. They are made to fit pack n play mattresses which are normally 3" inches deep. It is a one size fits all pack n play sheet 27" by 39" by 5" inches.
It is made from a high quality 100% natural cotton jersey knit microfiber fabric which is breathable and hypoallergenic. Best part is they are super soft and plush too. And they are available in 20 beautiful colors and prints for moms to choose the one which fits their decor and tastes.
It is machine washable and remains soft after several washes. And its also well made and strong so the edges will not tear up after washes because of the high quality sewing 4" deep pocket with an elastic enhanced band.
If you are looking to add some more padding to the thin mattress pad which comes with a pack n play. Then a quilted sheet is exactly what you need because it will add comfort and softness for a comfortable sleep for your baby.
The TILLYOU quilted sheets are made of 100% microfiber material which is soft and breathable to give your baby comfortable sleep. It is also padded enough to give enough cushioning from the metal bars at the bottom of the pack n play.
They are made to fit standard pack n plays and have a flexible tight elastic band that is durable and fits securely to keep it safely in place. And it is also machine washable and does not shrink in size either after washes.
For babies with sensitive hypoallergenic skin, you get organic cotton sheets to avoid any chemicals that might trigger a reaction on their delicate skin. Then these ALVA baby organic cotton sheets are safe and soft for your baby.
They are 100% woven and not knitted which makes them extra strong and durable. You also do not have to worry about the fit because they are 27* 39* 3 which fits the standard pack n play in the market.
Consider getting these organic sheets to not only protect your pack n play mattress but have a safe and soft sheet that will not be harmful for your baby. You can choose from the available 10 pattern and color combinations for a pair that will match your nursery perfectly.
---
See also Do crib sheets fit pack n play
---
Conclusion
If you are looking to get sheets for your pack n play, then regular crib sheets will not fit a standard size pack n play because crib sheets are bigger. And getting a fitting sheets for a pack n play is important for safety and comfortability for your baby.
When shopping for a snug fitting sheet for your baby, consider the size, material and thickness of the sheet. Because the mattress pad which comes with a pack n play is thin a quilted sheet is a goo option to add some padding and comfort to the pack n play.
Getting a good quality and fitted pack n play sheet will make all the difference so that your baby gets quality and uninterrupted sleep. Otherwise a loose fitting one will only bunch up and make the pack n play uncomfortable for sleep.