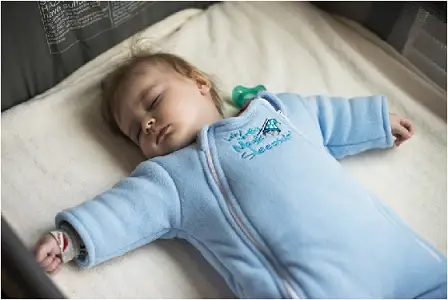 Chirpy Mama;

12 November, 2021

2594 views
Baby Merlin Magic Sleepsuit too Hot?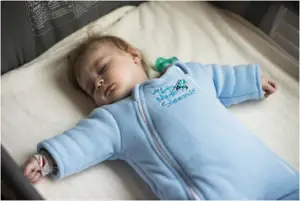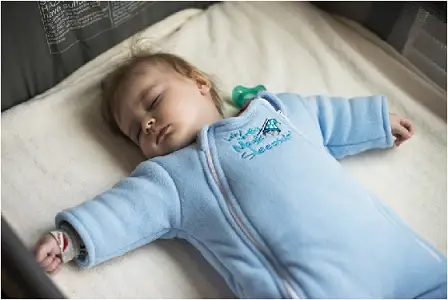 Is the baby merlin magic sleepsuit too hot?Well, the merlin magic sleepsuit is not too hot per say unless you fail to regulate the room temperature or choose to overdress the baby. This is because the sleepsuit has a TOG of below 1 as stated on their official website which means it is a light sleepsuit.
The TOG which stands for the thermal overall grade is a rating for sleep sacks and the higher the rating the warmer the sleep sack.It's important to note that for the merlin sleepsuit they are having that retested just to be sure. Therefore, it is advisable to dress your baby lightly. Because the suit is made of a polyfill layer and a jersey cotton inner layer and either a cotton or microfleece outer layer making it warm and puffy.
Which means you need to dress the baby lightly in a short sleeve onesie or in diapers only in the summer months.And also keep the temperatures in the nursery cool to ensure that your baby is comfortable.
Is the baby merlin magic sleepsuit too hot?
The merlin sleepsuit is not too hot if you choose to regulate the room temperatures accordingly and dress your baby appropriately. It's also important to monitor how your baby feels with the merlin sleep suit on. If your baby is one who sweats from a wrapping muslin  then the transitional merlin sleepsuit will probably be too hot for them.
In addition, a merlin magic sleepsuit is designed with open hands and feet to help in regulating body temperature of the baby. Therefore,you should avoid putting socks on their feet or mittens on their hands. As open hands and feet help in dissipating heat.
There are also two merlin sleep suit options to choose from: the cotton or microfleece version. They are both puffy but the cotton could be more cooler as it is breathable. For those living in colder regions the micro fleece version could be more suitable.
See also Best Sleep Sack after Merlin
Room temperature for merlin sleep suit
Make sure you set the room temperatures at just the right range of 68-74 F depending on how your baby feels. If they are sweaty and flashed then you should keep it cooler and if their hands or feet feel cold consider making it warmer.
What you should avoid is using a direct heater or fan to regulate room temperature as it's not safe for your baby.
Can merlin suits be used in summer?
The merlin suits can be used in the summer but you have to keep the room cool and dress them only in their diapers or a short sleeve onesie to keep your baby comfortable. Run a quiet fan or leave the door open and do not put socks on their feet either.
The suit is designed to be used all year round. The important thing is to avoid getting the room too hot.Otherwise your baby could overheat and end up waking up every hour beating the purpose of the suit.
Alternative to baby merlin magic sleepsuit
If you are looking for a lighter transitional sleep sack after swaddling the zipadee zip is one to consider. It has a unique starfish design with a zip and covers their hands and feet.
It provides the cozy feeling of a swaddle while allowing some movement unlike the merlin sleep suit. Which means your baby can suck their thumb or move their legs. In addition, it is safe even after your baby starts rolling.
It is available in different materials such as cotton and polyester and is definitely cooler than the magic sleep suit. Which means you can dress your baby in pajamas or a long sleeve onesie to keep them warm.
Best of all it's available in cute patterns for your choosing in sizes extra small upto extra large.
See also Best sleep sack for tummy sleepers
Conclusion
Is the baby merlin magic sleepsuit too hot? With a TOG of less than 1 the sleepsuit is not as hot however it is puffy due to the polyfil used as the material.Which means it can be hot if you overdress your baby or fail to regulate the room temperature depending on the temperatures outside.
However, it is designed with open arms and feet to regulate temperature. Therefore, to ensure the sleepsuit doesn't turn out too hot for your baby. Dress your baby in a short sleeve onesie and don't dress them in socks or mittens. And opt for the cotton version which is more breathable compared to the microfleece that can be a little warmer.
FAQs on Baby merlin magic sleepsuit too hot
Merlin magic sleepsuit cotton vs microfleece?
Which one should you get between merlin magic sleep cotton vs microfleece. Both of them have the same jersey cotton inner layer and polyfill layer, the difference is in the outer layer one has cotton the other microfleece.
Most moms recommend getting the cotton version as it's more breathable and you can always layer. Nonetheless it's just as puffy as the microfleece and may have to run a fan or keep ac at 72-73 to prevent your baby from overheating or getting uncomfortable.
Do you put socks on with a Merlin sleep suit?
You can choose to put socks on with a merlin sleep suit especially if you find your baby's feet ice cold in the morning. However,so long as their body is warm it's ok, the design of leaving feet and hands out with the magic sleep suit is to cool the baby.
Merlin's magic sleepsuit cold hands?
Does your baby get super cold hands when using merlin's magic sleepsuit? Well it's advisable first to check whether the rest of their body is warm. If it is, there is nothing much to worry about. 
Next check the temperature of the room and consider turning up the heat. Alternatively, you could choose to use mittens if they can keep them on. Or use socks instead which is a mama's hack.If nothing works consider using the zipadee zip which is also a swaddle transition sleep sack with a unique starfish design with a zipper to it.