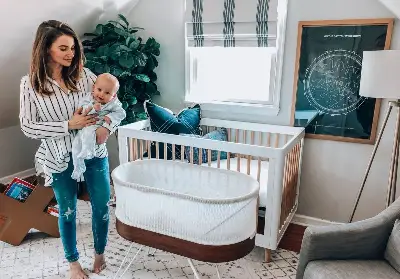 Chirpy Mama;

16 July, 2021

2585 views
Snoo Sheet Alternative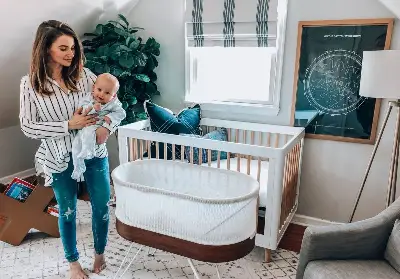 Considering a snoo sheet alternative? Well there are third party sheets which are well fitting, less pricey, of good quality and available in other cute patterns rather than the plain white color snoo offers.
It was not easy finding the best fitting snoo sheet alternative however after much digging we found some with most positive reviews. We are sure you will not miss one that will also work for your snoo. Read on to select your preferred color and pattern.
Snoo Sheet Alternative Reviews
If you are looking for bang for your buck for the price of one snoo sheet you get 3 Cambira baby organic cotton jersey fitted sheets. They are just as snug fitting and smooth as the snoo sheets. And are preshrunk to ensure fit.
They are made from 100% organic cotton and are machine washable. They can also be used as changing pad sheets. Consider these sheets if you are looking for earth tone sheets for your snoo that are fairly priced.
For those who love prints and colors, consider these momcozy universal bassinet sheets made from breathable jersey cotton material. Which also come in 3 packs for less than $20. 
For some mamas they fit snoo perfectly although some complained that they shrunk after the wash. To avoid fading or change of texture, consider handwashing and use a fabric softener to maintain a soft texture.and when fitting ensure the snoo is on properly otherwise the mattress pad will not lay flat.
See also Do crib sheets fit pack n play?
Cuddly Cubs jersey bassinet sheets is another good pick that works with the snoo. It comes in a pack of 2 and in cute patterns. They are made from super stretchy jersey cotton and are buttery soft. They are also well packed and can make a perfect gift for an expecting friend too.
Consider these if you are getting back up sheets for your snoo. Best of all the brand stands behind their product for shrinking staining or losing their stretchy. Which is honestly reassuring given getting third party sheets is such a hussle.
See also Cat Proof Bassinet
Conclusion: Snoo sheet Alternative
The snoo sheet alternative to highly consider is the Cuddly cubs bassinet sheets which come in a pack of 2. They  make a good substitute for the snoo sheets as they fit fairly well eventually on the edges.There were no complaints of shrinkage and it is super soft and comes in cute colors.
See also Best Bassinet for Cat Owners