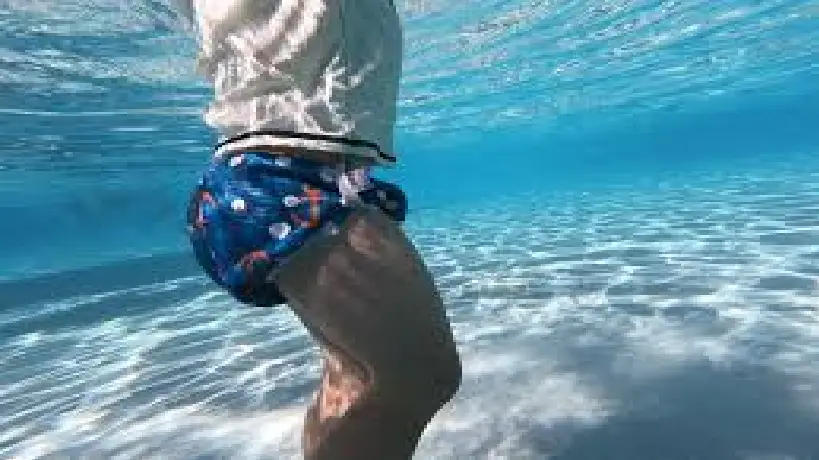 Chirpy Mama;

7 June, 2020

5247 views
What Can You Use Instead of a Swim Diaper?
Swim diapers are good at preventing accidents while the baby is swimming. However, the cost of buying disposable swim diapers can quickly skyrocket.
That is why parents look for cheaper alternatives, so what can you use instead of a swim diaper? You can use reusable cloth swim diapers if you do not want to incur the cost of using disposable swim diapers.
They are cheaper, eco friendly and more cute I must say than the disposable options.
What can you use instead of a Swim Diaper?
I am going to share with you what I personally believe is the alternative to swim diapers for the beach or for use while going for swimming lessons. If you do not want to keep bleeding savings by buying disposable diapers, then these are a must have.
You are going to need a reusable cloth swim diaper. Please note that not all cloth swim diapers work well, a lot of cloth diapers in the market today do not fit well and simply leak the dirty stuff.
Reusable swim diapers are not made to hold in pee, they do not have much absorbency so that your baby can be lightweight as they swim. They are made to hold in solids only – keep the poop out of the water.
The only reusable cloth swim diaper that I highly recommend is the Alva Baby Reusable Cloth Swim Diapers simply because it fits well and does a good job at keeping the dirty stuff in.
This reusable swim diaper is simply the best option to disposable swim diapers available right now.
Because I have been using this reusable swim diaper for my son since he started his swim lessons at 6 months and it custom fits him very well.
This reusable cloth diaper is that you can adjust them to custom fit your baby, they will not leak and will wash up very well. Alva Baby Reusable Swim Diapers  contain a bunch of different snaps you can adjust to custom fit your baby and you can adjust as your baby grows.
They are also fairly priced especially for 3 diapers and are of high quality at the same time, what more can you really ask for?
---
See also Swim diaper alternatives
---
How long can you use this reusable swim diaper?
Well, this reusable cloth diaper can be used until the baby is 2 years old.
The thing I love about this reusable cloth diaper is that it has sets of snaps to ensure they fit snugly but comfortably around the waist and legs to avoid any accidents…dirty in.
Most importantly ,it does not swell up like a disposable diaper under water so your baby can swim comfortably without being dragged down.
Pros 
Well, there are quite a number of things that I love about this reusable swim diaper..
It is an affordable option unlike disposable swim diapers

Does not swell up like a normal diaper would underwater, it's made with a light fabric.

It is eco friendly and washes up well.

It enables you to save money in the long run and comes with a 1 year guarantee – sincere service and no risk.

It is of high quality- cloth is thick and good sewing and  durable – they hold up well 8 months later.

Has snaps you can adjust to fit your baby as they grow.

It is very easy to put on and available in super cute designs.

Looks so fashionable even without a suit over it.

Provides a snug fit on the baby bottom.

It is safe to use on a baby's skin
Cons
After using reusable swim diapers for over a year with my toddler son, I have not experienced any problems.
---
See also best overnight diaper for tummy sleepers
---
Conclusion
The only diapering solution for babies while they are swimming is to use a disposable swim diaper or a reusable cloth diaper. However, disposables are expensive and simply add waste to the environment. 
You can use reusable swim diapers instead. They are eco friendly, more economical and stylish so to speak. Wishing you all the best as you introduce your baby to swimming.