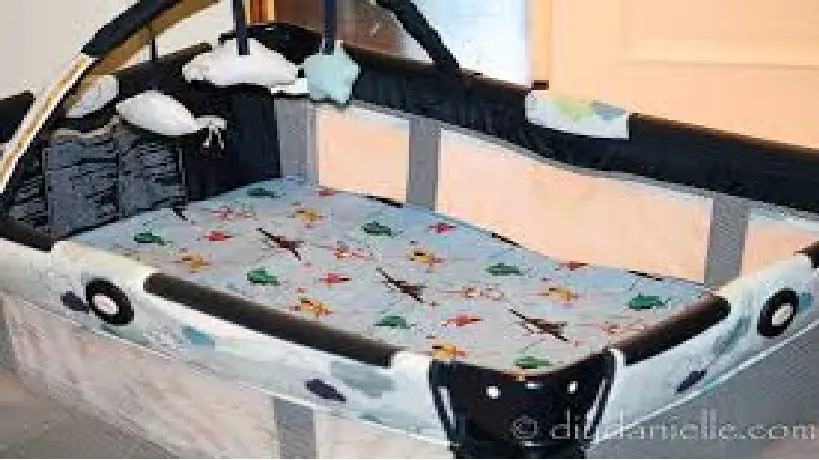 Chirpy Mama;

15 June, 2020

102 views
How to Make a Pack n Play More Comfortable ( Safe Ways)
I use my pack n play a lot for my son and I must have tried all the possible ways to make it comfortable. Because my son just won't sleep for long in it. I tried adding folded blankets under the mattress but it was not even ,leave alone safe.
So as a normal mom would do, I scavenged the internet to find safe and easy ways to make it comfortable for naps and play. And they worked like magic because now my son sleeps like a "baby" should. Easy ways to consider on how to make a pack n play comfortable for sleep.
Replace the thin and hard mattress pad with an

EXTRA thick mattress pad or mattress.

Use a breathable pack n play fitted

quilted sheets.
Add a cushioning and protection with a waterproof quilted mattress cover.
How to make a pack n play more comfortable
Use a thicker mattress
Well, pack n plays come with a thin and hard mattress pad which is about 1" thick and they will by no means be comfortable for your baby to sleep in. In fact, they will not get quality sleep but rather wake up grumpy( deny you peace) that is if they catchy a solid 2 hour nap.
Replacing it with Hiccapo Dual Sided Extra Thick Mattress Pad which is at 3.25 inches  it is thicker and cozier for that deep supportive comfort your baby needs.
Your infant can use the mattress pad till the toddler years because it is dual sided. It has a firm gentle support side for newborn period and when you flip it on the other side you get a softer plushier side for their toddler years.
It has a ultra soft jacquard zipper cover which is hypoallergenic and waterproof hence safe for super sensitive baby skin. And you do not have to worry about diaper leaks and replacing the pad soon too.
This mattress pad is specifically designed for the standard pack n play sizes (38" by 26") and is compatible with most pack n play brands in the market today. It has rounded corners and will leave no gaps for maximum safety. As a caution, do measure your pack n play to get the exact size before purchasing.
---
See also Do you need a mattress for pack n play
---
Use pack n play fitted quilted sheets
If you are using regular sheets and your baby cannot seem to sleep for more than 2 hours in a pack n play, a quilted sheet is exactly what you need. Your baby will simply love this sheet because it will add softness to keep them comfortable.
I highly recommend TILLYOU Cloudy Pack n Play Sheet Quilted if you are worried about the safety of adding an addition mattress to your pack n play or replacing it all together with a more thicker mattress pad.
You know how it is so difficult to find fitting sheets for a pack n play, leave alone quilted fitting ones. These will fit perfectly to the bottom of standard size pack n play. They are specifically designed to fit the standard pack n play industry size it measures 27" by 39" and  5" deep pocket.
It will fit brands such as Graco pack n play, Skip Hop and baby trend one because the standard pack n play measures 25.5" long by 37.5" wide and 1"-5" thick. As a caution make sure you measure the exact size of your pack n play before purchasing.
These sheets are of high quality and  hold up well after several washes. They come in nice colors such as a grey neutral color, pink and blue to fit individual likes.
CLICK HERE TO READ CUSTOMER REVIEWS ON AMAZON so that you can read what other parents who have bought this quilted sheet are saying.
---
See also  Do crib sheets fit pack n play?
---
Add a waterproof mattress cover 
Whether you are looking to add some soft cushioning on your pack n play mattress pad or some protective cover from spills a waterproof a mattress cover is for you. I highly recommend this Bluesnail waterproof quilted pack n play mattress cover .
It is thick and will add cushioning to the hard mattress pad. They will perfectly fit a pack n play, they are size 24" by 38" by 5".It also has pull strings to tie on the back for a much tighter fit.
On top of adding some sleeping comfort to the firmer mattress, it pads the mattress well because it is a fabric, eliminating the noise made by baby when turning on the plastic covered mattress.
You do not have to worry about safety and durability when it comes to the cover sliding off the mattress pad because it has tight elastic band which is double reinforced. It also wash up very well ,with no shrinkage and comes out as soft from the drier.
This waterproof quilted mattress cover will save you on replacing the mattress pad in the case of accidents such as vomiting or other biological matter!
CLICK HERE TO READ CUSTOMER REVIEWS ON AMAZON so that you can hear what other moms are gushing about what this pack n play mattress cover.
---
See also Does pack n play need sheets
---
Conclusion
There you have it, 3 safe ways how to make pack n play more comfortable. The good part is they are also cheap and high quality products to make it possible.
You only need to choose between a thicker pack n play mattress pad replacement, a fitting pack n play quilted sheet and a waterproof quilted mattress cover.