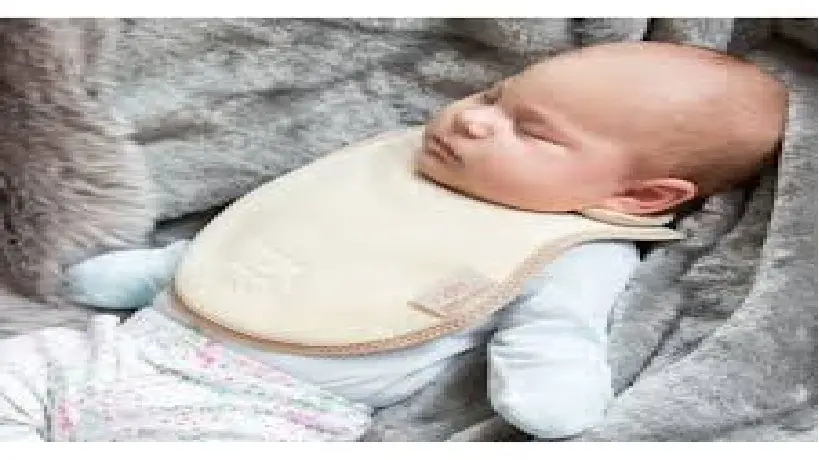 Chirpy Mama;

15 June, 2020

125 views
Do Newborns Need Bibs?
When you are expecting a baby, a bib is one of the items you will need to buy. If you have come across a good bib sale and are looking for solid reasons to make a purchase,  you can stop being on the edge.
Especially if you are planning on breastfeeding your baby, you are wondering whether you will need to use one later when you  introduce solids or before.
So do newborns need bibs? The simple answer is that your newborn will need a bib whether you are planning on exclusively breastfeeding, bottle feeding or formula feeding. This is because newborns tend to spit up, dribble out breast milk and drool so having a bib will save you from changing a whole outfit and to keep the baby dry.
In this article we will cover all that you need to know about bibs for newborns. The type of bib you will need if you are breastfeeding, bottle feeding and the things you should consider when shopping for one.
Should newborns wear bibs?
There are several reasons why newborns need bibs even when they are breastfeeding for their own benefit and that of the mommy.
Newborns tend to dribble out breast milk from their mouths while sucking. Others even pull off often , letting breast milk spray all over making them wet. It  could be that the milk supply is too fast. In such a case where you have a messy feeder you will definitely need to have a breastfeeding bib on your newborn to keep them dry and avoid unnecessary outfit changes.
A bib will also soak in all leaked breast milk as they feed to avoid it getting to their necks which can cause rashes. You will  also avoid that stinking smell from soaked breast milk on babies' necks and clothing. 
Newborns also spit up milk in the case where they have overfeed and their tiny stomachs cannot take in anymore. You will need to put a bib on your baby to save your baby outfit and on laundry.
Newborns also drool a whole lot you will learn dear mama! And if you want to keep your clean and dry you will need to use a bib with a waterproof back.
You will also be taking many photos of your baby especially at the newborn stage and you will need to have some cool and cute looking bibs called bandana bibs. They are stylish and triangular shaped bibs which work both as fashionable pieces and for drooling.
Protect their outfits from stains. This is likely to happen when you are giving your baby liquid medicine for example calpol , so you will need to put a bib on.
---
See also When do babies start wearing bibs
---
Things to consider when buying a newborn bib.
To prevent awful neck rashes these bibs need to have a super absorbent collar so that they catch all the milk from dribbling and spills. 

To keep your baby clothes dry the inner layer must be waterproof.

Lastly their outer layer should be soft and absorbent to catch all drool and spit ups.
Which are the best newborn bibs to buy?
Well, now that we have covered the reasons why newborns absolutely require bibs you need  to know which are some of the best bibs which will serve your baby while they are in their newborn stage.
Breastfeeding bibs for newborns 
If you are looking for bibs with perfect neck size for newborns with tons of soaking room I highly recommend these Green Sprouts Milk Catchers Bibs. They are a must have item if you have a spitty 0r reflux baby because your baby might end up living in them. They come in cute colors , they wash up easily, and have an easy to use velcro closure.
You could also buy these ones by Tommee Tippee Comfi Neck Newborn Bib because of their innovative reversible design and the additional neck padding which is such a genius idea.
Bandana bibs for newborns
If you have a newborn who drools a whole lot, you will need to protect them from drool rash which is so awful. You need to use a bib which will prevent that and a bandana bib is the perfect piece to use. Check these cute baby girl designs if you are expecting a little girl, they will match beautifully with any of her outfits. 
And if you are having a bouncing baby boy check here for the best designs for your little man. Trust me you will get so many COMPLIMENTS because they are so much cuter than regular bibs. To be honest I cannot get enough of the cuteness with these bandana bibs, they are so much CUTER than the traditional bibs. The backing is so soft and they have an adjustable neck size.
---
See also best bibs for baby led weaning
---
FAQs on do newborns need bibs
Are drool bibs necessary?
Drool bibs are absolutely necessary especially if you have a super drooling baby. They will keep your baby dry and save you from changing outfits because of getting wet. Most importantly, they will prevent the dreaded drool rash which babies catch from drooling on their clothes.
Once they get out of the newborn stage and you decide to go for baby led weaning you will need a different kind of bibs.
Should babies sleep with bibs on?
Babies can be messy because they can vomit, spit up or drool at any time but you should never let your baby sleep with a bib on because you will be posing a suffocation risk.
Conclusion
Newborns do need bibs to keep their clothes dry when they dribble milk from their months while breast feeding or if they are drooling. For bottle feeding babies, bibs are a must have in case they spill milk or spit up.