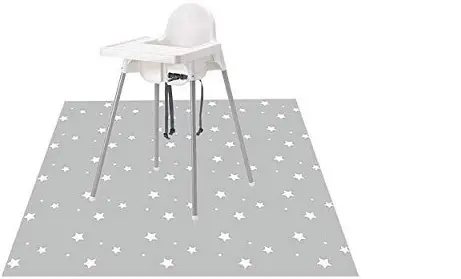 Chirpy Mama;

10 March, 2021

1673 views
Best Splash Mat for Baby Led Weaning [2021]
All mamas planning on baby led weaning are aware of the messes it comes with , that is why your hunting for the best splash mat for baby led weaning. However, you must be careful when shopping for one that is durable and easy to care for.
The most important feature to look out for is the material used whether it's washable and waterproof to avoid spills spilling into your floors. Consider one which has a non slip backing to prevent any cases of sliding or falls. And lastly the size of the mat, it should be large enough to actually serve its purpose.
Thankfully we have made your shopping way easier by jotting down for you this review. Am sure you will find a splash mat that will not only match the high chair or decor but one that is durable and easy to clean to make your clean up time as painless as possible.
Check Out Our Top 3 Picks
Review of the Best Splash Mat for Baby Led Weaning
If you are looking for an easy to clean, waterproof and non slip splash mat to take the stress off cleaning up after the feeding sessions then this WOMUMON machine washable anti slip splash mat is definitely what you should get.
It is made from 100% polyester material that is safe for babies free of all toxic materials like pvc, lead, bpa and odor. Best of all it is waterproof so you can simply wipe off the messes with a damp cloth with some detergent or toss into the washing machine. It also means no water or soup spills will get to your floors giving you double cleaning work.
It is big enough to provide coverage that is extra measuring 51" by 51".Best of all, it has a non slip backing and does not bunch up either, So you can be at ease knowing it won't be slipping around. Consider getting it  if you are shopping around for a durable , safe and high quality splash. It's available in 3 different colors for your choosing.
For mamas keen to get stain resistant splash mats this Bumkins Splash Mat will be perfect. It is rectangular in shape measuring 42" by 42" made from baby safe polyester material that is durable and can withstand daily use.
Best of all, this splash mat is easy to clean, stain resistant and also machine washable. In addition, it is also waterproof to protect your floors from liquid messes for hardwood floors especially.
Consider this splash mat if you will be preparing staining foods for your baby led weaning meals. It is stain resistant, long lasting and durable. It's advisable to let it air dry as it dries quickly too. You can choose from the  beautiful patterns it comes with for one to match your style.
---
See Also Best bibs for baby led weaning
---
Unlike the two splash mats listed above this 2-in-1  splash mat comes fully packaged at almost the same price range with a smock and weaning ebook with it. Who would not want such a deal really? If you have not yet shopped for a smock then this is your chance to get everything at once.
It is a triple layer splash mat with a top layer that allows liquid to collect for easy cleaning, the second layer for adding waterproof protection and the third layer is a non slip backing with silicone beads. This makes the splash mat heavy duty and durable.
In addition, it is machine washable and the size simply perfect for providing full coverage measuring 51 inches by 51 inches. It also has double reinforced stitching to provide wear and tear protection from daily use.
Best of all, is the smock which comes with the splash mat to provide full coverage of your baby's clothes. We do not want any stains to the clothes or have to spend extra on laundry trying to get one out. And the free baby led weaning e-book for some easy to follow tips and tricks on how to guide your baby to exploring food on their own. 
---
See Also When Do Babies Start Wearing Bibs
---
Conclusion
The best splash mat for baby led weaning is not so hard shopping around for. You only need to consider the material used, the ease of cleaning it up and the size it comes in. 
We strongly recommend the 2-in1 splash mat that comes with a  smock and a free e book for mamas. It is not only non slip, easy to clean by wiping off or machine washing, durable with three layers to provide waterproof protection to floors and comes at a super inexpensive price for great value to you. What else would one ask for really?