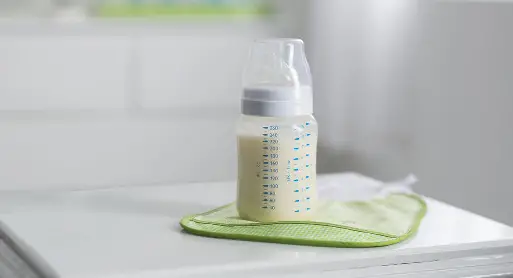 Chirpy Mama;

10 February, 2021

567 views
Best Bottles for Thickened Formula [Review 2021]
For mamas who are adding cereal into your little ones formula, getting the best bottles for thickened formula is vital. This is because regular nipples sizes make feeding difficult for your baby.
Although some parents increase the size of the nipple hole on their own in most cases the flow ends up being unpredictable. Lucky enough there are Y cut nipples and variable flow nipples which you can use that make it easier for thickened formula to flow which we have covered below.
Your search for the best bottle for thick formula does not have to be one of trial and error. Read on to find one for the consistency you are working with. In addition, we have reviewed other baby feeding bottles made of silicone that are squeezable which work great for feeding cereal.
Check Out Our Top 3 Picks
Comparison Table of Best Bottles for Thickened Formula
Best Bottles for Thickened Formula Review
The Tommee Tippee Closer to nature bottles for added cereal were designed specifically for thickened feeds. The bottle is of large capacity upto 340ml (11oz) for older infants.
They feature a Y cut nipples which allow thickened formula to flow through without clumping. Although some mamas find the flow too fast for their little ones, it all comes down to how much cereal you add per oz of formula. It will work perfectly if you are adding 1 or 2 oz of cereal per oz of formula.
Best of all, the wide neck bottle makes it easy to add cereal into and also to clean it up. The silicone nipples are also soft and the easy hold design makes feeding easier. Highly consider getting these Tommee Tippee bottles if you are quite thickening your formula.
Pros
Bigger size capacity upto 11oz

Y cut nipples for thickened feeds

Soft silicone nipple

Wide neck for cleaning and adding cereal
Cons
May be fast flowing for less thickened formula
Dr Brown bottles with internal vent systems which encourage paced feeding are also good for thickened formula. And what makes it even better is the fact that they have the y cut nipples to make the flow of thickened formula consistent.
For mamas with littles ones who need to add cereal due to acid reflux these will work perfectly. Other than reducing fussiness and gas due to the air vent system which releases excess air and prevents swallowing of air.
In addition, they have the wide neck y cut nipples compatible with wide neck bottles. Wide neck bottles are great as they are easier to clean and dry up fast too. Highly consider Dr Brown bottles if your child is a fussy feeder too.
Pros
Internal vent for reducing gas and spit up

Y cut nipples for thickened formulas

Price friendly

Easy to clean up with a bottle brush
Cons
If you are adding 1 tablespoon of cereal to an oz of formula, then y cut nipples will work great for your baby. For those who are barely thickening the formula, variable flow nipples are what you should go for which will work well with Philips Avent bottles.
 

Philips Avent Variable Flow Nipples

: variable flow nipple for thicker fluids suitable for 3m+. The nipple has a slit hole rather than a round one, which makes it suitable for thickened liquids to flow through better.

 

Dr Browns

these are Y cut nipples suitable for 9 months +, they work great for added cereal in bottles.

Tommee Tippee Y Cut nipple

for mamas who swear by Tommee Tippee bottles their y-cut nipples might just work for you.
There are brands such as Avent, Dr Browns and Tommee Tippee have nipples which work super well for thickened formulas such as y cut or variable flow nipples which are compatible with their respective brands.
---
See Also Can I Wash Baby Bottles With Dawn Dish Soap
---
For mamas with little ones above 4 months old, you can try the Gaodear silicone squeeze bottle feeder for cereal. It is a 4oz bottle made of silicone with a silicone spoon feeder.
Consider these for thickened formulas that may clump through y cut nipples as these will work perfectly. You only need to squeeze the bottle to feed your little one. And is designed to be leak proof with a sealing cover, inner and outer ring.
They are also super easy to clean and maintain. And can be used for fruit puree, rice cereal and yogurt after you're done with thickened formula feeding. You get an unparalleled opportunity to these and if it doesn't work for your baby you can return the product.
Pros
Silicone squeeze bottle feeder

Its leak proof

Easy to clean

For 4 months old +
Cons
Some find the flow too fast
Unlike all the bottles listed above this is a baby food feeder set. Termichy feeder comes with a fruit feeder with 30ml capacity and a feeder spoon of 90ml capacity. They are made of safe food grade materials.
It features the squeezing design which makes it easy for controlled feeding and encourages self feeding for older infants. The feeder has a pacifier clipper to prevent loss and a cover for outdoor use.
Try the Termichy feeder if the consistency of the formula is going to be as thick as pureed food. It will not only work great but you can simply put the whole thing in the fridge for storage.
---
See Also Alternative to Breast Milk Storage Bags
---
Conclusion
You do not have to scavenge the internet looking for the best bottles for thickened formula. The most important thing to look out for is the flow and design of the nipples.
For super thickened formulas go for the Tommee Tippee closer to nature bottles with y cut nipples. Alternatively you can opt to get the avent variable nipple size if you already have bottles compatible with them.
When you have tried y cut and variable sized nipples without success. Consider using the silicone squeeze feeder set for cereals. It might just be the game changer for your little one.