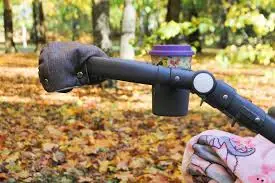 Chirpy Mama;

15 May, 2021

402 views
Best Cup Holder for Stroller

If you are looking for the best cup holder for stroller you are in luck today. Because we have scoured the internet for cup holders that are not only compatible with any stroller but sturdy enough to hold your cup steady.
When shopping around there are features to look out for. For starters , compatibility is super important to ensure it can fix firmly on the bar of your stroller. Second, consider how easy it is to attach and stay steady. 
Lastly, the material should be durable and size allow fitting for standard sized cups and baby bottles. Read on to select one that will work best for your needs and preference.
Check Out Our Best Pick : Accmor Universal Cup Holder
Review of the Best Cup Holder for Stroller
If you are shopping around for an universal cup holder that actually works look no further than this Accmor Universal Cup Holder. It has some great features which include;
It is adjustable diameter to fit any kind of stroller bar to fit bottles and cups of less than 95mm or 3.74 inches.

Most importantly, the width can be adjusted to fit the strollers with rods with diameters measuring 1.4cm-4,cm or 0.55-0.7 inches.

A clamp designed with a rubber stamp to make it firmly clip on the stroller rod and avoid any sliding down.

It has 360 degrees rotation to allow fixing on whatever angle you would like.

Inside the holder are 3 springs which ensure the cup holds in securely fixed to prevent any spills or falling down.
We highly recommend this universal cup holder as it is of good quality, well made and easy to install.
---
See Also Best parent console city select lux
---
For those who prefer a mesh cup holder to plastic the J.L Childress cup holder is what you should consider. It can work both for umbrella strollers and double strollers and can fold easy with it on.
Best of all it's not plastic but rather fabric so it will not break in case of a fall or brush with a wall. And because it is made of fabric it collapses easily and doesn't stick out. In addition, the mesh in which you can place your phone, keys for easy access while on the go.
It is deep and therefore fits cups and bottles very well. The added bonus being its insulated to help keep your beverages cold or hot as is. It is compatible with most double strollers and umbrella strollers too.
---
See Also Best Stroller organizer for nuna mixx
---
For Accmor to make a second appearance on this list it's clear they make super functional cup holders. This is a 2-1 cup holder with a phone holder for you to take calls while on the move. It is available in six colors to match to your liking.
It can fit any stroller handlebar type, thick round, small round and also a flat handlebar. Made of decent quality plastic it does not look any way flimsy. The cup holder is sturdy because of the adjustable pad to tighten or loosen it to the handle.
We highly recommend if you are always on the go with your phone as you walk your baby on the stroller. It's versatile, easy to set up and also comes at such a budget price.
---
See Also Best rain cover for chicco bravo stroller
---
Conclusion: Best Universal Cup Holder for Stroller
The best cup holder for stroller must meet some design features to make it compatible with any stroller bar. The clamp should be adjustable to enable sturdy fit on any kind of handle bar. In addition, the diameter should have added anti spill features.
We highly recommend Accmor Universal Cup Holder as it has an adjustable clamp, is super sturdy with anti spill capabilities. It also can fit any bottle or cup size as the diameter is also adjustable. Best of all, it's easy to install.