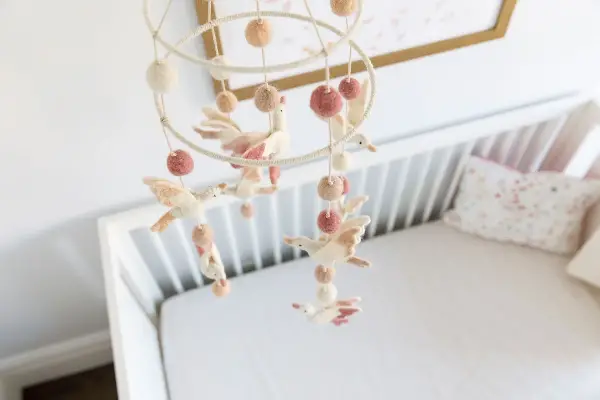 Chirpy Mama;

20 November, 2020

247 views
Thing that Hangs Above a Crib [Everything You Need to Know]
The thing that hangs above a crib is called a baby mobile or a cot mobile. It is a structure which hangs over the baby's crib that contains toys and objects with other additional features such as music to calm and keep the baby occupied when they wake up.
If you are looking to decorate your baby's nursery with one. In this article we have covered the safety considerations you must adhere to, the different types of baby mobiles available and features to look out for when shopping.
Thing that Hangs Above a Baby's Crib
As we have mentioned, that thing that hangs above a baby's crib is called a baby mobile which has toys and objects attached to it. They also have several features such as spinning, music, Bluetooth enabled, removable toys and night light.  And there are three different types of baby mobiles available in the market today. 
Crib Mounted Baby Mobile

: these are baby mobiles that you only have to clip to the side of your crib and are ready for use. Only important thing to note is whether it can fit a square or rounded crib edge but some are universal fit. 

Portable Baby Mobile

. This is a baby mobile that is lighter and movable to clip wherever you like for instance to a baby stroller.

Ceiling mounted Baby Mobile.

These ones are generally mounted on a ceiling after putting a hole on it.
Hanging Things Over Baby's Crib
There are several considerations to put in mind before setting up a baby crib mobile to ensure the safety of your baby.
Height:

Newborn babies generally can see within the 8-15 inches and that is why the American Pediatrics Academy advice for baby mobiles to not be less than 7 inches in string length.

Age:

Once your baby is able to reach up and pull the crib mobile you must take it off. In most cases you can use it from 0-5 months once they can sit up, it might not be so safe having it over the crib.
Secure Fitting: The toys should be securely fitted and not lose to avoid them falling over your baby's head. In addition, the clipping to the bed edge should also be firm to carry the weight of the toys. 
Best Baby Mobiles Worth A Mention
If you are looking for a minimalist- no sound yet modern designed baby mobile look no further than Sorrel + Fern brand. They make unique 3- Dimension design mobiles from eco friendly materials such as felt and unfinished wood.
It is also very easy to install, you simply hang it to a wooden hoop. Best of all the string height is safe at 19 inches and the pieces are adjustable too.
They are available in several colors and themes to match the kind of nursery design you are creating. There are neutral colors, bright colors with different themes of toys.
My Verdict: I highly recommend this Sorrel + Fern baby crib mobile for its not only super cute but classy. They are all handcrafted and made of hypoallergenic materials.
For a baby mobile that is packed with features and grows with your baby. Consider this Tiny Love soothe and groove baby mobile which has music, mobile motion, a night light and can be turned into a standalone music toddler toy.
The mobile has 6 music categories and 18 different tunes. It uses 3 size C batteries and has two high quality speakers that give 40 minutes of uninterrupted music time. And a night light for some soothing before falling asleep.
It is also very easy to operate and only needs to attach on the side of the crib. Just make sure to check it occasionally to check for firmness.
My Verdict: For a more all rounded baby mobile that will grow with your baby. This Tiny love will not only soothe, calm but entertain your baby.
---
See also Do Crib Sheets Fit Pack n Play
---
Unlike the crib mobiles above, this is a portable baby mobile that you can carry and attach to a pack n play, bassinet, baby stroller and carriers. So that you can keep your baby occupied while on the go.
It contains bright colored and big eyed characters that spin around and engage baby's eye movement. In addition, it provides 30 minutes of uninterrupted music with 5 melodies.
It easily attaches to your desired item by use of 3 attachment methods depending. You can use the velcro strap attachments for baby carriers, two clip attachments for pack n plays and the clip attachments for strollers.
My Verdict: Consider getting this portable baby mobile if you are an outdoorsy person and love moving around with your baby. It keeps them busy and occupied while on the move.
---
See also Best Bassinet to Keep Cats Out
---
FAQs on Thing that Hangs Above A Crib
What is the thing that hangs over a crib called?
The thing that hangs over a crib is called a crib mobile. It contains toys and objects that are meant to calm and keep babies entertained when they awake and also stimulate sensory and auditory development.
Should you hang things above the crib?
You can hang things above the crib but there are safety considerations you must put in mind such as they should be far away from baby's reach and also firm to avoid them falling over the baby's head.
---
See Also Best Curtain Rods for Blackout curtains
---
Is it safe to hang a mobile above a crib?
It is safe to hang a mobile above a crib so long as it hangs more than 7 inches above it. In addition, it should be securely fitted on the ceiling or crib edges to avoid it bending over to a position which your baby can pull it down.
---
See also Best Parent Console for City Select Lux
---
Conclusion
The thing that hangs above a crib is called a baby mobile. It can be a wall mounted, portable or crib mounted baby mobile. For safety reasons make sure the string is not less than 7 inches and it does not hang too low.
Once your baby is 5 months you must remove it, others can be turned into toddler toys. When shopping for a baby mobile, consider the design, materials used and the features you would love incorporated in the mobile.