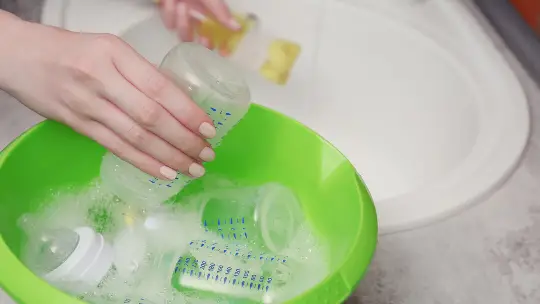 Chirpy Mama;

11 September, 2020

745 views
Can I use Dawn Dish Soap to Wash Baby Bottles?
When it comes to cleaning and maintaining baby bottles -the attention is on the details.The kind of  dish soap, water temperature levels, bottle brush and a bottle drying rack .Just to make sure highest hygiene standards are maintained.
Whether you can use dawn dish soap to wash baby bottles? Yes you can; however, Dawn dish soap leaves behind residue and a soapy smell. Which means you must rinse them thoroughly after washing or else sterilize the bottle to get rid of the residue.
In addition, Dawn dish soap contains fragrances and harsh cleaning agents. Which are not safe for baby overtime. Thankfully, there are safe and mild dish soaps for washing baby bottles you can use.
Which dish soap is best to wash baby bottles?
When shopping for the best dish soap to hand wash baby bottles look out for the following. The type of cleaning agent- avoid petroleum based oil and go for natural ingredients that are mild. Importantly, it should be free from fragrances, parabens and dyes. 
Below are the best dish soaps worth mentioning for washing baby bottles.
This is the best dish soap for baby bottles in the market today. It was specifically formulated for cleaning baby bottles, pacifiers and  breast pump parts. It is safe for babies and effective in removing milk odor in bottles.
It uses clean and pure cleaning ingredients which are baby friendly. These are derived from plants and are dermatologically tested as safe for babies. It is also non toxic, fragrances and dyes free.
If you are looking to make your bottle cleaning seamless and obsess about residue or soapy smell afterwards. It also has a pump cap top for easy and use too. We highly recommend Dapple dish soap for hand washing baby bottles.
Babyganics is another popular brand in the baby cleaning products. And it is no different for their foaming dish and bottle soap. It uses plant derived cleaning agents and is unscented.
What's more, it rinses out quickly without leaving behind any smell on your baby bottles. And for mamas with sensitive skin, this dish soap is non irritating to the skin and will not dry it out.
Most importantly, it does not contain any pathlatesm dyes or fragrances. Consider this foaming soap for cleaning your baby's dishes and bottles. It is safe, unscented and rinses out without leaving any residue.
For a more multipurpose liquid soap that is baby safe Carolina castile soap is the ideal option. You can use it for dishes, laundry, hand washing and mopping. It does not contain any preservatives, foaming agents or detergents. 
This means, this liquid soap is not only safe for your skin but for the environment too. Because all ingredients are biodegradable, vegan and natural. And uses 100% recycled plastic for their packaging.
Best of all, it is 3 times more concentrated than most liquid soaps. Which means you dilute it before using. Get this liquid soap if you are looking for a safe soap that you use for baby bottles and other home uses.
---
See also are comotomo bottles dish washer safe
---
Is dawn dish soap safe for babies?
Well as we have discussed the best dish soaps for baby bottles should contain mild cleaning agents. Dawn dish soap uses petroleum based cleaning agents which are not safe for babies.
They leave behind residue which when consumed overtime are well known endocrine inhibitors. If you opt to use Dawn dish soap, make sure you thoroughly rinsed the bottles.
So that you can get rid of the fragrance in the soap and any residue. Make sure to also sterilize them at least 2-3 times weekly. 
FAQs on Can I use dawn dish soap to wash baby bottles
Soap left in baby bottle, how do I remove it?
If you are using regular dish washing soap for cleaning baby bottles. You will notice soap smell and residue remains. This is because of the cleaning agents used to make the soap.
The best way to remove the residue is to rinse thoroughly with hot water. And afterward sterilize for 5 minutes in hot water. However the best option is to use a residue free dish soap such as Dapple dish liquid soap for baby bottles.
---
See also alternative to breast milk storage bags
---
Dapple VS Babyganics
This is a tough call because both use plant based cleaning agents, and are mild and safe for cleaning  baby bottles. But the best dish soap for cleaning baby bottles between dapple and babyganics is Dapple liquid soap. 
Compared to babyganics, Dapple is highly effective in removing odor and the oily milk film on baby bottles. It is a hassle free soap and leaves no residue behind.
Conclusion
When it comes to cleaning baby bottles -it's better to be safe than sorry. You can use dawn dish soap but it does contain fragrances, dyes and leaves behind soapy residue.
As a recommendation, it is best for you to use a mild and plant based cleaning dish soap. They are safe for cleaning baby bottles and do not leave behind any residue.