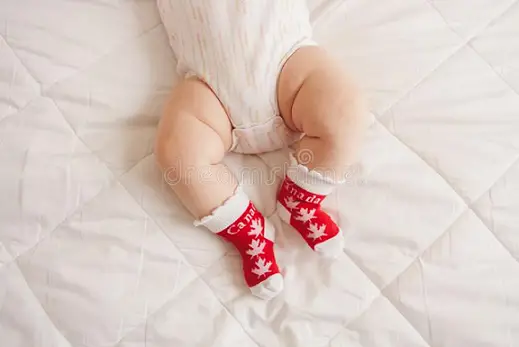 Chirpy Mama;

11 September, 2020

131 views
Best Socks for Chubby Babies [2021 Reviews]
For babies with chubby ankles and feet, regular socks tend to dig into their ankles and tight around their feet. Which is uncomfortable for the baby, blocks proper circulation and leaves ugly marks behind.
Some moms choose to go a size higher but that doesn't always work. Because the socks won't fit well and come off easily. This does not have to be you, we have rounded up the best socks for chubby babies
Check Out Our Top 3 Picks
Best Socks for Chubby Babies Reviews
If you are looking for soft socks that will keep your baby's feet cozy turn cuffs are perfect! They work great as everyday wear socks because they are not too thin or thick.
They do not have the tight elastic cuffs which cut off circulation. In addition, the cuffs give a nice cushy fitting around the ankles so that they don't fall off.
What's more, they have non-skid bottoms to provide grip for babies learning to walk. And they still retain their grip after several washes. Get these turn cuff socks if you are looking for everyday wear socks that are durable with good sizing to fit you growing baby. 
These Zaples non slip ankle socks are great for chubby legs as they have a low cut design with a pull on tab for easy putting  on and off. They have a ribbed cuff which makes them stay on and not fall off without being too tight to leave behind marks. These are a god option for chubby thick ankles.
They are made from breathable cotton material that is stretchy. Best of all they have a grip to give traction and prevent sliding off on sleek floors. They have medium thickness and are perfect for all seasons. And are available in sizes  12 -36 months.
Highly consider these Zaples socks for your little one. they will not leave behind marks, are easy to put on and off and will not be falling off their legs either. They come in pack of 9 pairs which is great because socks always get missing and are available in all colors for your choosing.
Knee high socks are a good option for chubby legged babies. You can roll them up to the knees, they do not cut into babies skin and actually stay on- no sliding off. And are perfect for keeping baby's feet warm without the need for a blankie or whole wardrobe change.
The Olabb baby socks have super elasticity to accommodate chubby growing feet. And are made of a breathable soft fabric that is tender to soft baby skin.
They are also cute with animal print designers and can be paired with dresses for girls. If you are looking for socks for the fall for your chub chub -these will work great.
See also best diapers for chunky babies
A great alternative to socks for chubby feet is to use baby booties. They are cozy and work as shoes and socks at the same time. You can slide them on the baby and dash out of the house without putting actual shoes on.
They come with a hook and loop velcro closure. Which is very comfortable for the baby because it will not leave any indents on their ankles. And they actually stay on unlike regular socks which can slide off.
Consider these booties if you are looking to do away with socks altogether. Or you are looking for a cozy and fitting pair to keep baby's feet warm during the winter. They wash up well and come in cute colors for your choosing.
---
See also best sleep sack after merlin
---
For mom's looking for thick warm socks, then these VWU socks with toweling lining and soft cotton covering. They will work great for harsh cold winters by keeping baby's feet warm and cozy.
They also have a rolled up design which you can adjust according to preference -they can roll up to mid cuff. Importantly, the ankle crew feature makes it hard to slide off.
Lastly, they have anti-skid grippers to keep babies from slipping on floors. Making them great for babies learning to crawl or walk. The icing on the cake is that they come in 6 pairs at a truly inexpensive price- what's not to love about these socks really? 
See also best sleep sack for tummy sleepers
Unlike all the socks on this list, the Dicry socks have a unique building design on the back side. Which makes them easy to put on and will not be tight on the babies ankles. So they are very comfortable for babies to wear.
They are super soft and made of 95% cotton and 5% spandex. And if your munchkin has sweaty feet, these will keep them cool and dry. In addition, they have grip rubber covers making them safe for walking on hardwood and cold tile floors
The best part is they are all seasons because they aren't too thick or too thin. And are tailored for babies and toddlers. Consider these if you have an energetic toddler who loves running around the house.
---
See also best bibs for baby led weaning
---
Buying guide for best socks for chubby babies
Consider the following when choosing comfortable and breathable socks for your baby with chubby feet and ankles.
Material:

Look out for cotton fabric because they are breathable and soft. Avoid nylon fabrics because chubby legs tend to get sweaty and nylon is not a good material for socks.

Cuffs design

. Consider socks with turn cuffs on the ankles to avoid cutting into the baby's skin. These also actually stay on compared to elastics around the cuffs.

Season.

Because we want to keep the baby's feet cozy and comfortable. For everyday wear socks get medium thickness socks. As for winter booties or socks with toweling lining work great.
Grips.

For babies learning to crawl or walk – get socks with non-slip bottoms. So that baby will not slide off the floor as they learn how to walk.
Conclusion
When you find ugly socks marking on your chubby baby's feet. As a mom you go hunting for the best socks for chubby babies.
For socks to be comfortable and well fitting for chubby ankles. Look out for socks with turn cuffs and breathable fabric to keep the baby comfortable. If you live in colder areas consider getting booties with hook and loop closures that will be comfortable around the ankles.