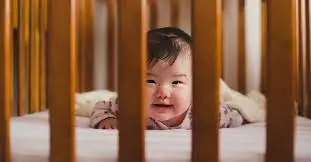 Chirpy Mama;

13 May, 2021

76 views
Best Sleep Sack for Tummy Sleepers [2021]
When shopping for the best sleep sack for tummy sleepers there are certain features to look out for. The zipper should be on the side or one that opens up flat. This is better than a zipper that opens up in the middle because it will be uncomfortable for your baby.
In addition, the sleep sack should have strong shoulder snaps or rather without snaps. This way when they are on the tummy it won't accidentally open up. Lastly, the fitting and design should not allow bunching up of fabric too for maximum comfort.
Lucky enough there are sleep sacks which fit the bill perfectly that are available in the market for tummy sleepers. And have made your shopping experience more seamless by reviewing for you some of the best. These are made from quality safe materials such as organic cotton, wool and bamboo. Read on to select one for your little one. 
Check Out Our Top 3 Picks
Review of the Best Sleep Sack for Tummy Sleepers
This Ecolino 100% organic cotton sleep sack is perfect for warm rooms with temperature between 70-80F. Alternatively you can pair it with warm pajamas for cooler nights.
The design is great with a single zipper on the side. Which is also very easy for getting it on and off your baby. This Ecolino sleep sack is available in 3 sizes and the fitting on the shoulders will not allow any bunching of fabric.
We highly recommend this sleep sack as an everyday sleep sack. It's best laundered in cold water under a delicate cycle and tumble dry alone . This prevents pilling up of fabric and allows it retain shape and color.
KYTE baby sleep sack is made from signature bamboo rayon fabric which is super smooth and breathable. Which makes it perfect for babies with sensitive skin also. You can purchase the 0.5Tog, 1.0 Tog or 2.5 Tog depending on your preference.
Most importantly is that the design is great for tummy sleepers. It has a side zipper and an additional zipper flap to the top to avoid any irritation as the baby sleeps. And the sleep sacks are quilted on the inside to avoid any bunching up of fabric.
It is available in oer 10 colors for your choosing. We highly recommend this if you are looking for a sleep sack with a double zipper to make changes in the middle of the night easy.
---
See Also Best Sleep sack after Merlin
---
If you are on a budget and are shopping around for a price friendly 100% woven cotton sleep sack. And a jersey cotton inner lining with 2.5Tog.This baby in a bag sleep sack is what you should get to braver those cold winter nights
It has a beautiful stylish pattern and great design suitable for tummy sleepers.  It has shoulder snaps and a side zipper which opens up flat great for night changes. In addition your baby won't be chewing on the zipper either.
We highly recommend this sleep sack for colder nights. It is available in 3 sizes and is very spacious on the bottom to accommodate kicks. Consider it for you tummy sleeper if you're into multi color sleep sacks.
For those looking for a grow with me design, this La Petite organic cotton sleep sack is perfect. It is made from 100% organic cotton which is very soft and breathable too. It is quilted on the inside and has a 2.5Tog.
The design has adjustable shoulder snaps to adapt as your baby grows and the 6 -24 months one is a great choice. It has a two way zipper which opens flat for easy changing. 
This also means for your tummy sleeper they will not get any discomfort from it. We highly recommend this sleep sack as a gift as it comes with a reusable cotton tote. For the quality, design and packing the price is definitely worth it.
---
See Also Best Overnight Diaper for tummy sleepers
---
They say save the best for last and that is exactly what you get with the Woolino 4 Season Wool Sleep sack which is pricey but worth every single penny. It is made from 100% natural merino wool from Australia and an organic cotton outer layer.
The wool lining is perfect for temperature regulating better than any other fiber available. It keeps the baby cool when it's hot and warm when it gets chilly. Included is a nursery thermometer and a dressing guide for you.
The design is great for a tummy sleeper. It has no snaps and a two way zipper that opens from top to bottom opening up flat. In addition, it has zipper guards. Best of all it has a 1 year warranty and great customer service if you purchase. Talk about Woolino standing behind their brand, great value for your money in my books.
---
See also Dry Nights: The Very Best Overnight Diapers, Pull-Ups, and Bedding
See Also Best Diapers for Side Sleepers
---
Conclusion
The best sleep sack for tummy sleepers should allow them sleep without discomfort from a zipper or bunching up fabric. When shopping for one for your baby look out for designs with side zippers or 2 way zippers that open up flat.
In addition, choose one with breathable and soft fabric such as organic cotton or bamboo. Avoid polyester at all costs. Consider also the Tog so that you can have one for summer night and a higher tog of 2.5 for colder winter nights.
Consider getting this Ecolino Organic cotton sleep sack for an everyday sleep sack and the Baby in a Bag Sleep sack for braving cold winter nights. You cannot go wrong with these for your tummy sleeper.