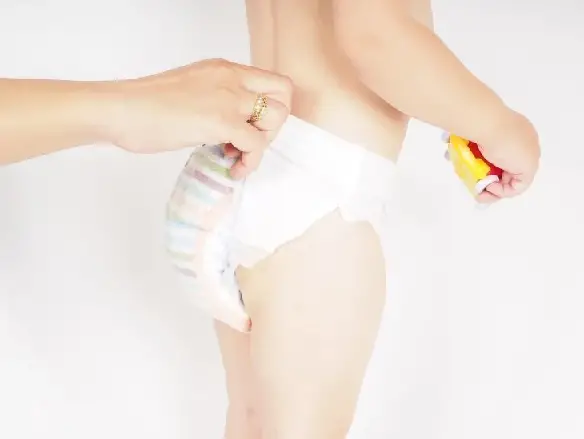 Chirpy Mama;

10 February, 2021

468 views
5 Best Pull Ups for Sensitive Skin [Reviews 2021]
If you just began potty training and the current pull ups you are using have led to a hive-like rash breakout around your little ones bum area. You will need to get the best pull ups for sensitive skin for your little one.
And it does not have to be hard searching for the brand that will work best for you. Most importantly look out for hypoallergenic approval tests and the quality of the material used to make it.
In most cases, such pull ups can be expensive however we have rounded up budget friendly hypoallergenic pull ups that are super absorbent with a comfortable fit that will make potty training a breeze.
Check Out Our Top 3 Picks
Comparison Table of the Best Pull Ups for Sensitive Skin
Review of Best Pull Ups for Sensitive Skin
The Natural Blossom brand is not one of the named brands in the market, but they have outdone themselves in developing pull ups that have passed globalized safety standards. They are certified by Allergy UK and do not contain volatile organic compounds.
They are made from super absorbent polymer sheets that reduce contact with your baby's skin and are also silky soft to the skin. On top of that, they have super impressive absorbency that is able to soak up to 500ml/17oz of liquid at their half thickness.
As for comfort they have rounded velcro cuffs around the legs to prevent scratching and digging into your baby's skin. With a flexible waist band for easy putting on and off. Best of all, they feature beautiful designs and are not bulky.
For mamas on the verge of giving up looking for pull ups that will end the discomfort for your baby, we highly recommend getting the Natural Blossom Pull ups.
Pros
Hypoallergenic guaranteed as per international standards

Comfortable fitting around the legs and waist.

Super absorbent for night time use.

Thin and not bulky yet absorbent
Cons
Might need to size up for some
For mamas keen to look for pull ups that are safe both for baby's skin and the environment. Then what you should get are the Eco by Naty Pull ups which are made from plant based materials. 
The mostly plant based materials are non woven which makes them breathable to allow for air circulation and prevent sweating. In addition, they do not contain nasty chemicals that cause breakouts.
We strongly recommend these for an eco friendly pull up for travel or camping. As it fits comfortably, is biodegradable and the plant based materials used are meant to reduce chances of allergy and diaper rash.
Pros
Mostly plant based materials used

Eco friendly

Breathable

Comfortable fitting
Cons
---
See also Best Overnight  Pull Ups for Heavy Wetters
---
The Honest brand rose to fame quickly and is loved by most moms for their cute designs and diapers made from sustainable materials. Which is why most moms get Honest training pants for their little ones with sensitive skin.
If you have not used Honest pants before, get the small package and see how it reacts to your baby's skin. As for the fitting , you might need to get a smaller size than usual. Most moms claim the fitting on the legs is not as great.
These training pants work great for daytime as the absorbency is not as great for heavy wetters. It can work well for daycare or for travel. Consider these if you have not tried any Honest diapers before.
Pros
Bio based core

Made from plant based materials

Cute designs
Cons
The Seventh Generation training pants are specifically designed for toddlers with sensitive skin. They are made free from chlorine processing and do not contain any lotions plus fragrances.
The core of the pants are also made from wood fluff pulp from sustainably sourced wood. Which makes it also breathable for your toddler. They are also absorbent for night time use.
Consider getting the Seventh Generation pants if you are looking for training pants that are free from chlorine bleaching and eco friendly. They are stretchy, comfortable and not bulky.
Pros
Designed specially for toddlers with sensitive skin

Free from chlorine bleaching

Eco friendly
Cons
Quality issues reported on sizing and absorbency.
Unlike all the training pants listed above, Bambo nature is more price friendly. If you are on a tight budget and your little one breaks out like crazy try their little pack. They are made from soft cotton like material which will be gentle on their skin.
They are also compostable and are free from all the dangerous chemicals such as chlorine and PVC which are harmful to the skin and the environment.
We recommend these if you want to steer clear of named brands as they might just work well for your little one. They will save your baby from rash breakouts and save your dollars too.
Pros
Budget friendly.

Free from dangerous chemicals

Compostable
Cons
---
See also Pull Ups with Velcro Sides
---
Conclusion
No mama wants to see their child suffering through diaper rash and all the scratching that comes with it. That is what getting the best pull ups for sensitive skin is a matter of urgency.
To make your search less of a trial and error we strongly recommend Natural Blossom Pull Ups which will definitely not disappoint. They are tried and tested by not only moms but to international safety standards. 
They are worth every single penny you will spend on it, adding the peace they will give you and your toddler. As much as potty training will not last long, getting hypoallergenic training pants to make it less painful is a must for mamas.