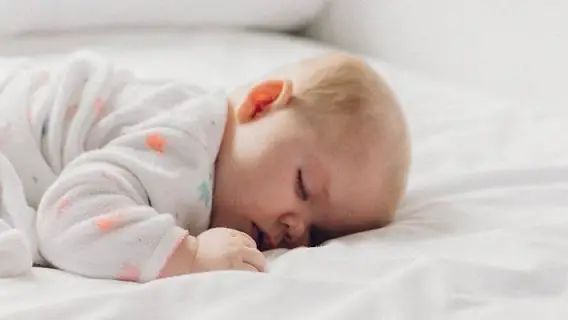 Chirpy Mama;

11 July, 2020

16 views
Best Overnight Diaper for Tummy Sleepers [2021 Reviews]
Diaper leakage on the front or waist band is a huge problem for most parents. This happens mostly once they learn how to roll over and start sleeping on their tummy.
You go hunting or tips and hacks from other mothers or look out for the best overnight diaper for tummy sleepers. It is worse for toddlers where you wake up and find your baby sleeping in a waterfall. The diaper leaked through to their pajamas and sheets.
But you do not have to worry, you can get overnight diapers which are suitable for tummy sleepers that absorb more liquid than regular diapers.
Best Overnight Diapers for Tummy Sleepers Reviews 2020
If you are looking for a quality overnight diaper that actually works for tummy sleepers get Huggies Overnites Nighttime Diapers.
With over 4,500 parents having used them these come highly recommended because they simply work like a charm. They have extra absorbency in comparison to day time diapers available in the market today.
Personally, I have tried every name brand and off brand diaper out there and do not mind using any for day time. It is a whole different story for the nighttime and Huggies Overnites are hypoallergenic and AMAZING.
They provide a comfortable 12 hour night sleep with their soft pajama like softness dry liner to prevent any wetness. You will not get any leaks with this overnight diaper especially for a tummy sleeper.
They have double leak guards , double grip straps and snug fit waistbands for a perfectly fitting diaper. You will love these for your baby especially when they start sleeping for longer uninterrupted hours through the night.
Pros
More absorbent than regular diapers

Hypoallergenic and safe for baby skin

Double strip straps

Double leak guards

Snug fitting waist band
Cons 
Costs more than regular diapers.
With 5 layers of protection and absorbency these diapers are suitable for tummy sleepers if you have a toddler. They are simply made to soak in as much liquid in the night and for a tummy sleeper the targeted padding on the front is perfect.
Goodnites bedwetting underwear are available for boys and girls. And for the boys the pad is located further because of their "winky" than the girl version. And they will work very well for a tummy sleeper by absorbing much liquid on the frontal core.
The good part? They have double leg barriers to prevent leaks on the sides as they sleep on their tummy and with super stretch waistband for a snug fitting. And they have an odor locking feature because toddler urine smell is stronger compared to newborn urine so you do not have to worry about odors.
What's not to love about these overnight diapers, they come in fun and cute designs and colors to spark conversation with your toddler as they learn to speak.
Pros
Five layer protection

Extra padding on the front for boys version

Double leg barriers

Super stretchy waistband.

Available in fun prints and patterns

Odor locking
Cons
Smallest available size suitable for kids weighing 28-45lb
---
See also best overnight pull ups for heavy wetters
---
Huggies is a popular brand and this is because they make quality, safe and innovative diapers for babies.
With the improved absorbing technology for the sizes 3-6 makes it possible for it to absorb liquid in seconds and locks it away. You can be rest assured your baby will be dry and comfortable through the 10 hour night sleep.
What's more is that it can absorb 23 times its weight and plus a wetness indicator for a tummy sleeper this means most of the liquid will be locked in reducing chances of leaks from the front.
You do not have to worry about fitting because it has a contoured shape for better leakage protection as they sleep on their tummy, crawl or walk around if you choose to use it as a daytime diaper too.
It is good to know that it contains no harsh chemicals and is safe for babies with sensitive skin.
Pros
Fast absorbing technology for a dry top

Absorbs 23 times its weight 

Contoured shape for leakage protection

No harsh chemicals
Cons
Improved absorbency technology only available for size 3-6
Every parent is conscious of the safety of the diapers they use, but most natural diapers are frankly overpriced. However,for those parents where pricing is not an issue and are looking for a safe overnight diaper get Honest Company Overnight Diapers.
They are eco friendly, hypoallergenic and safe for your baby's delicate skin. Consider these if your baby mostly wakes up in the middle of the night because of wetness from a diaper. It will be worth every penny you pay.
It uses an ultra thin technology core to lock away wetness quickly with 20% more absorption capacity in the night diaper. You will not be waking up to a soaked ball of diaper on the front.
With a super absorbent core made with fluff pulp from trees, it will absorb as much liquid for the tummy sleeper very well.
Pros
Super absorbent core made from fluff pulp

Ultra thin technology with 20% more absorbing capacity

Secure fitting barrier cuffs

Eco Friendly

Hypoallergenic
Cons
---
See also best diapers for side sleepers
---
Unlike all the options on this list, these are booster pads which add extra absorbing padding where it is needed most. They enhance diaper absorbency up to 20% more and use fluff based construction.
If you already have a stash of diapers form your baby shower or registry and are experiencing leaks because your baby is tummy sleeping, these are a great option. They have adhesive to make sure they stay put ,very soft on the skin and hypoallergenic.
Sposie overnight booster pads are life savers for heavy wetters who sleep on their tummies because they will give the much needed extra absorbency needed.
Pros
Are hypoallergenic

Provide 20% more absorbing capacity

Very soft

Adhesive bottom to keep them secure
Cons
Things to consider when choosing the best overnight diaper for tummy sleepers
So what should you be looking for in a diaper for tummy sleepers to prevent any leaks.
Extra Absorbing Channels
. 
The diaper must be designed to absorb more liquid in comparison to regular daytime diapers. This way it can hold in as much in the night when you want your baby to get an uninterrupted 12 hour sleep.
Target pad on the front
Most diapers have distributed absorbing channels, but there are some with extra padding located strategically on the front because. A good example are Goodnites for boys which have the absorbent pad located further on the front compared to the girls to accommodate the differences in anatomy.
---
See also are overnight diapers worth it
---
Fitting.
You would want the fitting to be perfect and give zero allowance for leaks. So consider one with double grips which will not loosen in the case your baby twists and turns.
Leak guards all round. 
Choose a diaper with double or triple leak guards all round the thighs which help keep the liquid in and prevent leaks on the sides.
Hypoallergenic.
Avoid diapers with chemicals or fragrances to avoid any allergic reactions. As much as we want a super absorbent diaper, they should be made from safe and chemical free absorbing materials.
Conclusion
There you go mamas, you can sleep without worrying about diaper leaks for your baby who sleeps on their tummy.
My recommendation for the best overnight diaper for tummy sleepers would be Huggies Overnites because they have the extra absorbency required relative to regular diapers, are hypoallergenic, have double guard leaks and double grip straps for a snug fitting.