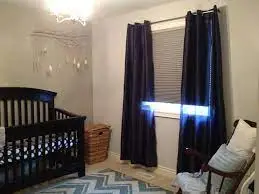 Chirpy Mama;

15 May, 2021

92 views
5 Best Curtain Rods for Blackout Curtains [2021]
When shopping for the best curtain rods for blackout curtains there are certain features to look out for. Otherwise your curtain might end up letting through some light or it could end up not carrying the weight of the curtains.
Therefore, the curtain rod should have the wrap around design to make sure the curtain goes around contours and cover windows to block out all light. In addition, measure the size of your window accurately with a metal tape to get the right size. It should also be at least one inch thick to carry the weight of the blackout curtains.
Lastly, consider the material and color of the finishing to blend well with the decor. To make your selection more easier we have reviewed for you some of the best in the market today. Read on to select one to your liking.
Check Out Our Top 3 Picks
Review of the Best Curtain Rods for Blackout Curtains
If you are looking for a curtain rod that is super sturdy , effective in making sure it blocks all light all round with a clean look. The Amazon Basic Room Darkening Curtain Rod is what you should get.
The design is basic but attractive also and the wrap around ensures that all light and cold air during harsh winters is kept out. The middle bracket makes the rod very sturdy to hold up heavy blackout curtains.
The installation is also super easy and you could also choose to have another hand to screw the telescoping ends at the same time. Overall, this is a sturdy, fairly priced curtain rod that does exactly what it should do. 
For those who prefer a double rod to also hang the sheers this MayRhyme Double Curtain rod is perfect. It is sturdy, such a beautiful color to match any decor and of good quality too. In addition, the rod, mounts and middle support are easy to install. 
The double rod is thick enough to hold up heavy blackout curtains without bending such as those made from velvet. And the wrap around makes it possible to block out all the light and any cold air.
We highly recommend these Mayrhyme double curtain rods for those who would like to hang their sheers also. It is not only super sturdy for heavy blackout curtains, functional wrap design to keep the light out and easy to set up.
---
See Also Best mattress for baby trend pack n play
---
If you are on a tight budget and are looking for budget curtain rods for room darkening. This 2 pack of Wrap Around Curtain Rods are what you should consider. The curved edge is good for privacy, sound insulation and light blocking. 
They are a breeze to install, you only need to line up the correct base with the correct base and the package has them allocated properly. They are of decent quality made from wrought and cast iron and offer great value for a pack of 2.
It is easy to open and close the shades and there will be no sloping, falling or drooping either. We highly recommend these for blackout curtains installation on a budget. They come in 3 colors( black, bronze and nickel) .And in two dimensions 28"-48" and 48"-86".

Another sturdy option that will not bend under the weight of heavy room darkening curtains is the Umbra Twilight Curtain Rod. It can carry a maximum weight of 22 pounds and is made of high quality nickel. It has a neat and clean design which ensures the rod is firmly affixed to the wall.
The curved edges will allow the light blocking curtains to give full coverage. The installation is easy and it is such a way no screws are visible for a very polished finished look. And are available in brass, bronze and nickel.
Highly consider these if you are looking for a high quality, single curtain rod for your blackout curtains. It has a polished look, easy to install and super sturdy to hold up the weight of room darkening curtains without sagging. Best of all they are available in 3 sizes 28"-48", 48"-88" and 88"-144".
For those who love the industrial aesthetic look which is so pleasing as much as we do, this  Sun Zero Bronn Wrap Around curtain rod is a must pick. It is available in 3 finishes black, pewter and aged brass and is adjustable 36". 
They hold off well and don't look dainty at all; will mount up quite solidly. And are also pretty easy to put together. The tension rod is also strong and will not budge even under the weight of heavy black out curtains.
We strongly recommend the fantastic industrial look. They are lightweight but super sturdy. In addition, no sweating the installation and the wrap around feature makes sure the curtain goes all round. Blocking the light, unwanted sound and cold air from the room.
---
See Also Thing that hangs above a crib
---
Conclusion
The best curtain rods for blackout curtains should enable the curtains to go all round on the edges to keep the light out. Be sturdy enough to carry the weight of heavy room darkening curtains and made of high quality material.
We highly recommend Amazon Basic Room darkening curtain rods for you. They are of high quality, super sturdy to carry about 20 pounds of weight and pretty easy to install. You will get great value for your money and keep light, sound and cold air out of your room.