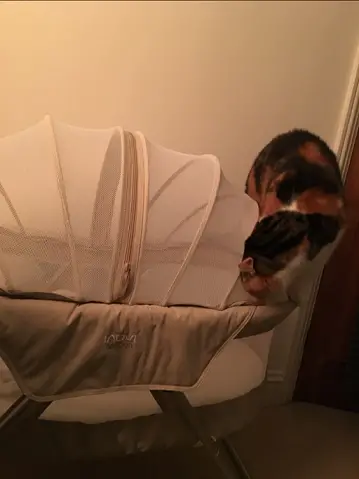 Chirpy Mama;

1 September, 2020

274 views
Best Cat Proof Bassinet [Reviews 2021]
We obviously love our fur babies and they are part of the family. And in most homes the cats have the privilege of sleeping in the bedroom. 
However, if you are expecting a baby there are certain considerations you must put in when shopping for a bassinet for your precious one. This is because you want to get a safe and secure bassinet. 
And it is not hard shopping for the best cat proof bassinet. The most important consideration is for the bassinet to have a sturdy canopy that cannot cave in, in case your cat jumps on top of the bassinet. You can also consider a portable bassinet cover for cats that is bottomless to put over an open bassinet to protect your baby.
Our Top 3 Picks
Best Cat Proof Bassinet Reviews 2020
Main  Features
If you are shopping for a spacious, stylish and sturdy bassinet then the Dream on me Karley bassinet is what you should get. With over 2000 customer reviews, it is a favorite for parents
This is mostly because of the double canopy cover that is very sturdy to keep cats and bugs away. In addition, there is a bottom hammock which you can store your baby items -or double up as your cat's spot! That way they have their own lounging area too.
It features a quick folding mechanism and you don't need any tools to assemble it .It is also very easy to carry because it is designed with a lightweight aluminum frame. Consider this bassinet if you are looking for a portable and secure bassinet. the Dream on me bassinet is available in 9 color finishes, so you can choose the perfect color to blend with your nursery.
Pros
Double canopy cover to keep cats out
Very spacious
Quick folding mechanism
Cons
Lacks additional features like adjustable height and rocking feature.
My Verdict: The Dream on me bassinet is lightweight, and cat proof with the double canopy. Although it is a very basic bassinet without super features, its very spacious and stylish too, what's not to love?
Main Features
When you value aesthetics and super features as much as we do, then Baby Delight Go with me Slumber bassinet is for you. It has a sleek modern design unlike the common bassinets out there.
The bassinet features adjustable height positions, a removable canopy and netting and you can rock your baby too. You have 6 adjustable positions, at the lowest it stands 13" above the ground and highest 17" above the floor.
Best of all the double canopy and netting can be removed for cleaning. It is also very spacious with high sides made of mesh and a soft pad comfortable for babies. It can be easily folded for travel or storage.
Pros
Removable double canopy for cleaning
High mesh sides for air circulation
Adjustable height
Sleek modern design
Cons
My Verdict: Consider this bassinet if you are looking for a bassinet that you can also rock your baby to sleep. It is safe for cat owners and portable for use outdoors and around the house.
If you live in a small home or apartment and are looking for a compact size bassinet the Delta children foldable bassinet will work great for you. It folds flat which is great so you can keep it close by and open up to keep a close eye on your baby.
For homes with very curious cats this bassinet will work perfectly. No worries about them snuggling in and suffocating the baby, the double canopy will keep them out.
Highly consider getting this bassinet if you are planning on camping or travelling with a baby. It is very convenient, does not need any assembling , you old need to fold it flat. And it also comes with a carry case too.
Pros 
Its foldable
Super compact perfect for small spaces
Double canopy
Cons
A little on the smaller side
My Verdict : This bassinet is super easy to use and fold up. It doesn't take up much space and is very lightweight. Although its small compared to most bassinets, its perfect for small spaces.
Main Features
This Dream on me Lotus Bassinet and Bedside Sleeper with a canopy will work best for C-Section moms. It will enable them to feed and take care of the baby without making a lot of movements. So that you can get the much needed rest for a quick recovery.
It is huge and can fit a toddler very comfortably. The sides are made of a mesh fabric which allow free flow of air. The height is adjustable by 5 positions from the floor so that it fits your bed position perfectly.
There is also a retractable storage underneath for baby items. Importantly, it folds easily and comes with a carry bag for when you travel. Perfect for vacations and out of town trips.
Pros
Its a bassinet and co side sleeper.
Perfect for C-section moms
Double canopy to keep the cats out.
Storage underneath
Adjustable height
Cons
My Verdict: If you have a C-section scheduled and are looking for a safe bassinet that will keep the cat out, look no further than this lotus bedside sleeper.
Main Features
Unlike all the bassinets on this list, the Comfy Bumpy Bassinet is made with steel frames. Which makes it super sturdy and still lightweight at the same time. It is also collapsible and needs no tools to assemble.
Although the height is not adjustable it has two modes to work with; the rocking mode and the stable position. This way your baby can enjoy some sleep while rocking away.
You get great value for your money with the Comfy Bumpy Bassinet. It comes with a soft mattress, soft washable sheet, hygienic urine pad and a detachable mosquito net. You cannot go wrong with this bassinet in keeping your baby comfortable and safe.
Pros
Steel frames -makes its very sturdy
Features two modes-rocking and stable modes
Comes with a soft mattress, washable sheet, urine pad and detachable net
Cons
My Verdict: This bassinet is the full package, it has all that one would need. The mattress, a urine pad, a sheet, cat proof cover and two modes to work with.
---
See also best parent console for city select lux
---
How to choose the Best Cat Proof Bassinet
Bassinet cover
If you want to keep your cat, mosquitoes and bugs out consider a bassinet with a canopy cover that is very sturdy. In case your cat jumps on top of the bassinet, it will not cave in. It should also be removable to allow cleaning. Alternatively, you can get a bassinet cat cover to put over a bassinet.
Design
You do not have to get an old fashioned design, because you can find a modern sleek looking bassinet with a canopy. Consider getting colors that are neutral such as grey or charcoal black so it can easily blend in any room.
Material
The bassinet should be made from breathable and safe material for babies. It should also have meshed walls to allow for free air circulation. Look out for polyester but avoid materials such as nylon.
Size
Most bassinets can be used until the baby is about 6 months and with weight limits of 25lbs. It should be spacious and with high walls so that your baby can have enough room to turn and for good air circulation.
Portable
If you are planning on using the bassinet when travelling or outdoors. Then the bassinet should be lightweight and easy to fold for storage and carrying. Consider one which comes with a carry case for carrying and safe keeping.
Conclusion
Our cat's are family members too. It is important for expecting moms to worry about the seeking arrangement of your baby. Especially if you have been sharing a bedroom with your cat, you can get more tips on how to keep the cat off baby items to give you some peace of mind.
This calls for special considerations when you are shopping for a bassinet. To get one where your cats will stay out, it must have a canopy that is sturdy. If you are a cat parent and expecting a baby, you must prepare your cat for the baby's arrival.
We highly recommend you getting the Baby Delight Go with me Slumber as the best cat proof bassinet. It has a detachable double canopy, 6 adjustable heights, a rocking feature and is portable. It will not only keep the cats out but your baby has enough space and room for fresh air to circulate.