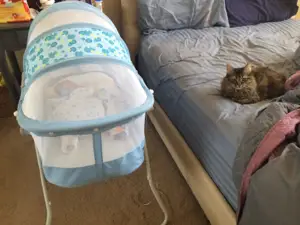 Chirpy Mama;

10 July, 2020

155 views
Best Bassinet for Cat Owners [Reviews 2021]
If you are a cat parent and are expecting a baby, you must be on the hunt for the best bassinet for cat owners which will keep the cat out.
You do not have to worry anymore because I was in the same position about a year ago and found a bassinet for my son which was safe to use with the cat around.
It does not have to be difficult finding the best bassinet for cat owners. Most important feature required is a sturdy canopy cover to keep cats out. Additionally at the end of the article you can read tips and tricks you can use to keep your baby out of the bassinet.
Top 3 Picks of the Best Bassinet for Cat Owners
Reviews of the Best Bassinet for Cat Owners
This is the best bassinet in the market that has a double cover to keep cats out. It is spacious, sturdy and modern. Best of all it does not cave in ,if a large cat weighing 15lbs once jumped on it.
It has a double canopy cover which you can zip up to keep cats, bugs and insects out. Which makes it great for when you are outdoors with your baby.
There is more.. It also has a large hammock storage space for storing your baby items. Which your cat may actually really love it as a lounge area.
You also do not have to use any tool kit to set this bassinet up. It opens up with a quick folding mechanism. And the lightweight aluminum frames makes the bassinet easily movable.
It is made of a soft and safe polyester fabric with beautiful finishes that will blend easily with the décor of any nursery. You can choose from the available 9 finishes.
If you are looking for a more sleek and modern design bassinet then Baby delight is for you. It has 6 adjustable height positions, a removable bassinet cover and a rocking feature.
The bassinet is very spacious inside with high walls made of mesh for fresh air circulation. In addition, the canopy cover  is a combination of fabric and mesh keeping the baby safe from cats and bugs. Best of all, the canopy is removable for cleaning.
Baby delight bassinet comes with a mattress and waterproof sheet for easy wiping. It is super easy to set up, because you will not need any tools for assembling or disassembling. And comes with a carry case for storage or when travelling.
I highly recommend this bassinet if you are looking for a bassinet that is not only cat proof but spacious and rock-able. You can easily pick it up to carry with you to grandmas or for trips.
For cat owners who are looking to save on space or who live in small apartments. The Delta Children bedside bassinet is what you need. It folds flat for storage and comes with a carry case for safe keeping.
Most importantly, it has a removable double canopy which will keep your cat out, mosquitoes and bugs. And comes with a waterproof mattress pad and fitted sheet. Which gives your baby a safe and secure place for sleeping.
You will love this bassinet if you are looking for a compact, lightweight and canopy bassinet for your baby. You only need to fold it up, no assembling needed and into the carry case for safe keeping.
---
See also best cat proof bassinet
---
How to keep the Cat Out of the Bassinet
Lay double sided tape
Cats hate sticky places and getting a double sided tape around the bassinet will keep the cat away from that area.
Put a cat Lounge near the bassinet
.
To prevent your cat from getting interested in the hammock or climbing into the bassinet. You can get a nice lounge area for your cat, then they won't envy your baby's bassinet.
Train your cat
. 
You can choose to train your cat not to play around the bassinet or climb into the bassinet. You need to be firm and make it clear that that is a no go zone similar to the table tops or shelves.
Lemon or Orange peels
.
 Cats hate the smell from lemon or orange peels and placing some around the bassinet will keep them away from babies.
Mint or Rosemary Oils
.
 You can drop a few drops of mint oil or rosemary in a cotton ball and place it near the bassinet. The smell will deter them from staying around the area.
---
See also best organizer for nuna mixx and tavo
---
Conclusion
As a cat owner who was worried about my cat snuggling into the bassinet and suffocating my baby. I totally understand the need for a safe and comfortable bassinet.
The most important feature for the best bassinet for cat owners is that it should have a double canopy to keep cats and insects out.
We highly recommend the Big Oshi Emma Newborn Bassinet which comes with an adjustable double canopy that is sturdy enough to hold a 15lbs cat without caving in makes it the absolute best choice.