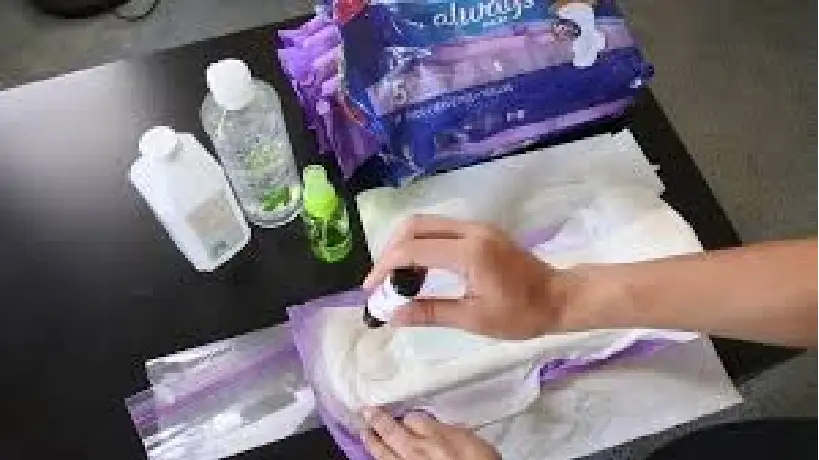 Chirpy Mama;

22 June, 2020

158 views
Are Padsicles Worth It? Best Answer
As a first time mama, you have to prepare for labor, delivery and postpartum. One of the ways to numb the pain and help with quick healing after a vaginal delivery is using a padsicle.
Making padsicles costs money and time so you are probably wondering whether they are worth making or whether you will actually need them. Well, there is no definite answer, it all comes down to preference because you use padsicles on a needed basis.
It depends on how much pain you can handle after having a vaginal birth ,tears or an episiotomy. Considerably most hospitals provide ice packs and tuck pads which can also work as padsicles.
Quick List of Alternatives to Padsicles
What is a Padsicle?
A padsicle is a frozen sanitary pad which contains added ingredients such as witch hazel and is put on during postpartum delivery to promote healing and soothe pain in the swollen private parts.
The word was coined from the words a pad- a sanitary napkin used during menstruation and popsicles- a water based frozen snack on a stick. The ingredients to make them include
Maxi pads

Witch hazel

Aloe vera gel

Healing herbs -optional

Lavender oil-optional
---
See also Best pads for padsicles
---
Are Padsicles Worth Preparing?
If you are a first time mama, it is hard to make a choice especially because you have never done it before. What's more you have to make them early before delivery in your 3rd trimesters.
Pros 
Padsicles help numb the pain of swollen tissue and pain in case you had an episiotomy done.

A padsicles is a pad and an ice pack all  in one. Therefore it will not feel bulky down there as compared to wearing a pad and ice packs.

Padsicles contain additional ingredients such as witch hazel which quicken he healing process.
Cons
As soon as they start thawing , you must change it up otherwise its uncomfortable.

Padsicles must be used within 6 weeks from the date you made them otherwise they lose their usefulness.
Are padsicles safe?
Padsicles are generally safe but this highly depends on the ingredients which you will use. It is important to consult with your doctor on this to know which ones are best suited for you.
In addition, the ingredients you purchase should not contain artificial or fragrances for example buy natural aloe Vera gel rather than the colored one.
As a note, before freezing the padsicles consider noting down the date because some of the ingredients used lose their effectiveness after 6 weeks. 
---
See also Diapers or Pads after delivery
---
Do padsicles work?
If you do not handle pain well, padsicles will be of benefit for you because if you because your privates will be swollen and sore after vaginal delivery and if you had an episiotomy, it will be twice as much. 
The pain is at its height typically the first 4-5 days. If your hospital will provide enough ice packs, tuck wipes or tuck pads to use during your hospital stay and some more to carry home with you might reconsider making them. 
If you are a heavy bleeder during your regular period consider using adult diapers for postpartum such as Depends and put ice packs on top on a need basis. This is because it is highly likely you will bleed through padsicles.
In most cases, labor and delivery does not always go as planned. You might end up going for an emergency C-section. In such a situation making the padsicles will end up being a waste of money and time because padsicles need to be used 6 weeks from the date of preparation
---
See also best adult diapers for postpartum
---
How many padsicles should you make?
Most mothers make their padsicles during the third trimester right about the time they make freezer meals for postpartum.
Consider making about 2-3 packs of pads of padsicles. Because you are going to be changing your pad every 2-4 hours you will need about 6 padsicles per day for 4-6 weeks depending on how long you will bleed or need them for healing down there.
Tips on Using Padsicles
If you find that the padsicles are a little too cold or if they are irritating the stitched tissue put a pant liner on top to reduce the coldness
Put a regular pad underneath to take care of any leakage problems because you will be bleeding heavily in the first few days. And if your normal period is heavy you should consider using adult diapers for postpartum.
Alternatives to Padsicles 
If you love taking warm baths then taking Sitz Baths are a good alternative in such a case to help with healing and the pain. You can do two sitz baths with epsom salts for a whole week to help with the pain.
Some mothers prefer using a perennial spray instead of a tuck pad or padsicle such as this one by Frida Mom  Perennial Medicated Witch Hazel Healing Foam which will help with quick healing.
Witch hazel pads for postpartum
If you do not want the hassle of buying all the ingredients needed to make a padsicle then there are options in the market today you can consider. As a first time mom having at least one of these will help cover all your bases after delivery.
 Check out these options for your consideration
This is a maternity pad and an ice pack all in one. The ice pack is inbuilt into the pad for the recommended 20 minutes therapy window.
It is super absorbent and able to absorb 260g of liquid beyond the therapy period. You get full coverage from front to back no leakage issues.
It will be worth every single penny for those first 3 days of awful postpartum pain. 
These are a good alternative to the diy padsicles which might end up being too cold and stiff. Plus whether you have a c-section or a vaginal birth these will come in handy because you can use them for hemorrhoids caused by pregnancy sometimes.
They are a must have for recovery after vaginal birth, order two packets because you will be needing them a lot during postpartum.
If you are looking for a reusable option with multiple uses then this eco friendly washable and reusable are what you need.You can use them for postpartum pain, hemorrhoids and laser hair removal pain.
With these pad liners you only need to put them on top of your maternity pad and they help reduce swelling and relieve pain. 
We mothers love getting full care packages or those lovely all in one kits which contain bonus items. It will save you from forgetting any time you might need during your labor, delivery and postpartum.
This includes:
Upside down peri bottle

Instant Ice Maxi Pads

Perennial Cooling Pad Liners

Perineal Healing Foam

4 Pairs of Disposable underwear  Boy Short Briefs 

Delivery and nursing gown

Non slip grip socks

Bathroom essentials bag (15 piece gift set)
Conclusion
Now you can make an informed decision on whether padsicles will be worth making for you or you would rather take on another option or it is better getting ready made options.
Remember, padsicles must be used with 6 weeks of making them and need changing as soon as they start thawing.