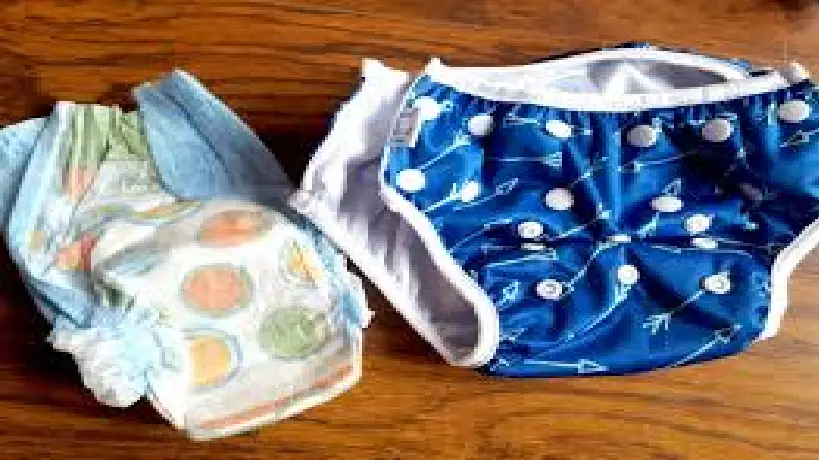 Chirpy Mama;

14 July, 2020

59 views
Swim Diaper Alternative [2021]
Let us be honest parents, adding the cost of disposable swim diapers to swimming lessons can be too much for most. Of course it is every parents desire for their children to learn how to swim but the cost of disposable swim diapers can add up quick. 
Luckily there are swim diaper alternatives which are made of fabric and are reusable. They will save you on the cost of using disposable swim diapers and they include: 
Alva baby diapers for newborns with snaps to grow with your baby
iPlay unisex design swim diaper alternatives.
5 Swim Diaper Alternatives Reviews 2020
Are you looking for an alternative swim diaper that will save you money and grow with your baby? Or maybe you are shopping for an eco friendly alternative to disposable swim diapers? Then get ALVAbaby one size swim diapers.
They come in two sizes with adjustable snaps for a proper fitting on the waist, legs and height of the swim diaper to avoid sagging. They will grow with your baby as they go for swim lessons and are designed in two sizes: one for 0-2 years and another for 0-3 years.
What's more? They are fashionable and stylish and come in cute designs for a fun and colorful summer.
Pros
One size fits all

Cute designs

Adjustable

Stretchy on the waist and legs openings.
Cons
Available in two sizes only
If you are looking for a reusable swim diaper for your toddler who is not yet fully potty trained, consider Naugeret reusable swim diapers.
They are available in a size which is adjustable to fit toddlers in sizes 4- 7 to fit kids who weigh approximately 20-55lbs. Waist 11in to 24 in and leg size from 10in-18inches
Best part? They have the snap on closure design for easy adjusting for a snug fitting on the waist and legs. Do not worry about the design because they are stylish and come in beautiful colors.
Pros
Specific designed for toddlers

High quality materials

Fun design and colors

Easy to clean
Cons
Many buttons can get confusing for some parents
Unlike all the swim diapers on this list, Bummis Swimmi have velcro closures which makes them very easy to put on and off.
In addition, they are made of nylon, cotton and polyester. The inner layer is made of a mesh polyester fabric, the middle part has a nylon lining to hold in watery waste and the outer layer has fun cotton prints.
And if by any chance you run out of diapers you can use the cover as a cloth diaper, cool right? Lastly, it features the hook and loop closure for a snug fitting.
Pros
Very easy Velcro closures

Fun designs

Nylon lining in the middle to hold in watery messy accidents.
Cons
Available in size 5 only.

Not as absorbent.
---
See also Best diapers for side sleepers
---
For mamas who want their babies looking stylish and cute swim wear while out on the beach or a fun summer vacation in the carribeans iPlay we highly recommend iPlay swim diapers for your baby.
For the classic fit, it comes in the pull on style with snap closures on the side which is unisex. This ensures no gaps between the legs preventing poop leaks into the poll in the case of an accident.
The material is 100% polyester which is light to encourage swimming and because it is trim unlike the bulk snaps diaper it will encourage more swimming.
And for mamas looking for some fashion statement style consider getting a one piece suit with inbuilt reusable swim diaper for girls and in trunks with inbuilt swim diaper for boys.
Pros 
Very cute designs and styles

Easy to clean- machine washable

Inexpensive

You can use under standard swim suit

Very light fabric

Keeps the poop in because of the sung fitting.
Cons
May

run small for chubby babies for the pull on style.
---
See also best overnight diaper for tummy sleepers
---
If you are looking for a reliable solid accidents leak proof swim diaper, Splash Happy Nappy swim diapers are for you.
They have ergonomically openings which provide a snug fitting for the baby preventing any fetal leaks in the case of accidents.
The happy nappy swim diaper is worn over a diaper wrap and liner. Which makes cleaning and changing easier. The liners are fold-able and placed in the diaper wrap with Velcro closures making them adjustable as your baby grows.
And what's more they are super easy to clean, you only need to hand wash and dry away from heat. You will love this swim diaper for your toddler, and the design deserves a shout out for sure.
Pros
Ergonomic design which fits like a glove

Easy to clean

Leak proof

Different designs of wet suits.
Cons
Things to consider when choosing a swim diaper alternative 
Material
.
Cloth swim diapers should be made of lightweight material to encourage swimming. Most common fabric is PUL polyester which is waterproof. For the inner layers check for premium polyester for the inner layers which is soft on the baby's skin and easy to clean.
Comfort
. 
You should get a proper fitting size for your baby. There are charts provided so consider measuring your baby's waist and thigh before purchasing one. Waist and leg openings should be stretchy and have binding to avoid digging into the baby's skin.
Design.
Reusable swim diapers are available in different designs. There is the pull on style, snap style and trunk style for older kids. You can also choose between double layer
Closure.
It should be easy to put on and off. You can choose the closure design to fit different baby body shapes. Snap on designs are adjustable for snug fitting and pull on style for toddlers who are  potty training.
Easy to care and maintain
. 
The material should be easy to clean incase of messes.
Price
. 
They should be reasonably priced, consider getting a pack of  2or 3 which are better priced in comparison to getting only a pair.
---
See also Are overnight diapers worth it?
---
FAQ on Swim Diaper Alternative 2020
Can my baby wear a regular diaper in the pool?
Most pools do not allow babies to wear regular diapers in the pool because they are not waterproof and if baby poops they will leak right through them ending up messing the water up for everyone.
What's more the diaper will soak in water and get bulky weighing down your baby in the process.
What kind of diapers do you use for swimming?
The best kind of diapers for swimming are reusable swim diapers because they are eco friendly and provide snug fitting preventing leaks into the water.
They are also available in fun and cute designs and colors perfect for the beach.
Do you really need swim diapers?
It is a requirement for public pools for a baby who is not fully potty trained to have a swim diaper on in a public pool because regular diapers just won't work in locking in accidents.
Conclusion
You do not have to spend all your dollars buying disposable swim diapers for your baby. There are swim diaper alternatives that are reusable, cheaper and of high quality.
Just make sure you the material is lightweight, size well fitting and design get a snug fitting size and comfortable for baby. We recommend the Alva baby as an alternative to swim diapers  for infants and Naugret for toddlers.