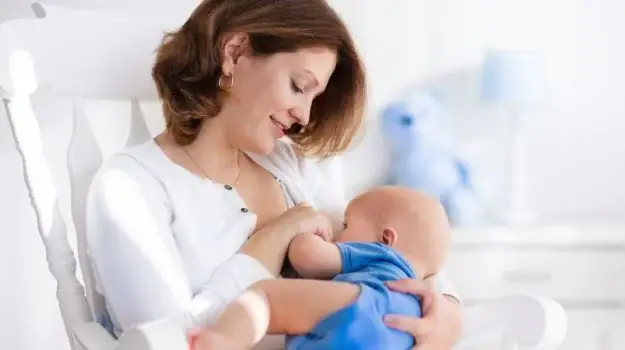 Chirpy Mama;

8 July, 2020

73 views
Nursing Tank Top Without Built in Bra [Reviews 2021]
Nursing tank tops are cute and practical but sometimes the shelf bra just does not work for some of us breastfeeding mamas. Especially if you have large breasts, the built in shelf bras do not provide enough support. 
What's more? If you choose to wear a bra with them, you feel so comfortable. Or you could choose to use braless nursing pads which stick to your skin.
Luckily, there are nursing tank tops without built in bras you can get that are modest, cute and comfortable for easy breastfeeding in public and at home.
Best Nursing tank Top Without Built in Bra Reviews 2020
Are you looking for a comfortable and stretchy nursing tank top? Or maybe you are shopping for a stylish tank top that can go well with your maternity jeans or leggings? Then get the Bearsland Women's Maternity nursing tank top.
Bearsland nursing top is a favorite for nursing mamas and this is because of the cute and modest design, so easy to style and comfortable fabric. It is super stretchy, soft and comfortable to accommodate postpartum body changes and is made of 94% rayon and 6%spandex.
The design is discreet with double front layers in the front with raffles which hang down when you lift the front layer to nurse in public and hide any fat rolls you might have gained. You do not have to clip and unclip anything. 
What's more? It also has an adjustable strap to fit you perfectly even after you lose your baby weight. It is also available in over 20 cute patterns and floral designs perfect for busy mama who does not have much time to think about what to wear in the morning.
You will love this cute and practical nursing tank top which you only need to hand wash or wash in a gentle wash and dry in the shade.
The Good
Super stretchy material

Available in all sizes.

Over 20 cute designs to choose from

Double front layers that are raffled to hide boob while breastfeeding

Modest and easy to use design- lift and breastfeed no clipping and unclipping.

Inexpensive – get 3 for under $50.

An adjustable strap for perfect fitting.

Easy to clean and dry.
Slight Concern
Its just perfect no concerns from me.
Some nursing mamas prefer sleeveless nursing tank tops to one with an adjustable strap. That is why I strongly recommend Smallshow women sleeveless tops with the pullover O neck line.
Smallshow nursing tank top is made of a very comfortable and durable material. Which is so breathable compared to cheap polyester. It is made of 95 % cotton and 5% cotton which you only need to hand wash to clean.
They are great casual nursing shirts for the summer with a pullover O neck sleeveless style which matches effortlessly with your mom jeans or shorts for a cool laid back look.
The double layer front layer makes breastfeeding discreet and easy to use. The neck is not unreasonably low cut and covers enough when you lift it up to nurse your baby in public. Although they are not as fancy or fashionable by any means, they make a good choice for a basic summer top for nursing.
The Good
Soft and breathable cotton material

Easy to clean.

Cool colors.

Easy to pair with shorts or jeans.

Available in all sizes up to XX large.
Slight Concern
---
See also Braless nursing pads
---
If you are a little heavy on the upper body and you are looking for the perfect solution so that you can wear a good supporting bra underneath this SUIEK maternity nursing top is for you.
It is a game changer nursing tank top with a cool innovative slide slit you pull back to allow nursing mamas breastfeed discreetly in public. There is no double shirt for you to pull up so you do not reveal your skin per or your boobs or under them.
It is so easy to wear with a cardigan, sweater or jacket when it gets cooler outside. It is also available in very gorgeous colors you can select from to matches your skin tone and personal color preference.
Washing instructions say hand wash but you can get away with machine washing these. It is made of a highly elastic material versatile to use during pregnancy and post partum.
The Good
Super elastic fabric for pregnancy and postpartum

Discreet slit design for nursing.

Perfect for mamas with large breasts.

Easy to maintain and dry.

Available in cool colors.
Slight Concern
Maybe too loose for some.
If you are looking for a nursing tank top that you can use with a cute sports bra as you workout towards getting back in shape, get this Joy mom summer nursing tank top.
The asymmetrical scoop neck design without sleeves which gives plenty of room for air circulation as you nurse your baby in the summer. 
It is also rushed on to give a flowy fit and banded at the bottom making a perfect loose casual nursing top.The good part, it comes in a heathered color perfect for camouflaging milk leakages. 
The Good
Perfect for wearing with a sports bras

Colors can hide milk dribbles

Soft fabric

Very airy for the summer.
Slight Concern
---
See also What to wear to bed while breastfeeding
---
Unlike all the nursing tank tops in this list, this nursing tank top can easily pass as a formal top you can wear with a cardigan for the office.
The frontal layers hang on the front in such a way to hide a postpartum belly or accommodate a growing one very well, not too tight or flowy either, just the perfect sizing.
Consider this top if you are looking for the perfect nursing tank top without built in bra you can wear outside of the house.
The Good
Has a formal design to it.

Perfect flattering design, not too flowy or fitting

Very soft fabric.

Easy to wash and dry
Slight Concern
---
See also How many nursing pads do you need
---
Things to consider when choosing a nursing tank Top without a Bra?
Material
.
If you are looking for a stretchy design consider getting one made of rayon and spandex. Cotton is also a super comfy material that will not cling to your body such as viscose does. It will allow you to wear braless nursing pads which stick to you skin without the need for a bra.
Style
.
You do not have to compromise on your style as much as getting a nursing tank top without a bra is hard. Look out for flowy designs, cool patterns and colors that compliment your skin tone.
Comfort
.
You want to be modest, breathable and comfortable. They are a good option for wearing to bed if your are breastfeeding because your body changes a lot after child birth. You should measure your bust and waist so that you get the right size that will flatter your body.
Wash.
It should be machine washable and not shrink after several washes ending up with a belly top instead of a tank top.
Price.
Consider getting 3 pieces rather than single ones as they are better priced. You do not have to break an arm and leg for them for $50 you can get 3 beautiful nursing tank tops.
Conclusion
I know the search for a nursing tank top without a built in bra is not easy. And that is why we have made it very easy for you. This if you want a fun and comfortable design get this you want a floral  Bearsland nursing tank.