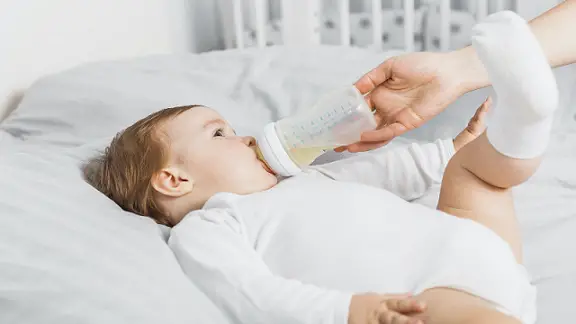 Chirpy Mama;

10 February, 2021

101 views
Best Bottle for Shallow Latch in 2021
If you have gone through much trial and error trying to find the best bottle for a shallow. This article is going to help you catch a break. The trick is to look for a bottle and nipple with features that encourage your baby to open their mouth wide for a deep latch for better milk transfer.
Which means you should look out for nipples that mimic the breast with a slow flow teat. That is short, round and wide. Avoid long and elongated nipples as they will only lead to a weak latch. As for the material avoid latex nipples as they tend to collapse, instead go for silicone nipples.
Thankfully, there are bottles in the market designed for babies who have trouble latching. Am sure you will find one that your little one will latch perfectly onto.
Check Out Our Top 3 Picks
Comparison Table of Best Bottle for Shallow Latch
Best Bottle for Shallow Latch Review
If you do not want to spend your money going through several baby bottles, go for the Tommee Tippee brand. These award winning breast like nipples ensure an easy and natural latch with a 97% acceptance rate.
The nipples are short, round with a wide base to encourage your baby to put the whole teat inside the mouth. It also has an anti colic vent to release air out and prevent gassiness. 
Best of all, it's made of silicone which is flexible like the breast to avoid any nipple confusion. To avoid choking the nipple is a slow flow one but if you want a fast let down, you can purchase such nipples separately.
Lastly, the bottle has a three way easy hold design which makes feeding comfortable for both you and baby. It is also BPA and phthalate free and easy to clean with very few parts to do so.
Pros
Award winning breast like nipple

Short and round nipples that encourages a deep latch

Anti colic vent to prevent gassiness

BPA and phthalates free

Easy to hold bottle 3 way bottle design

Price is super friendly.

Silicone flexible nipple

Available in 5oz, 9oz and 11oz

Replacement nipples available: extra slow flow, slow flow, medium, variable and Y cut for added cereal
Cons
Some moms need to replace the slow flow teats for medium
---
See also Can I Use Dawn Dish Soap to Wash Baby Bottles?
---
 
For babies who have trouble latching and wont lay still while feeding, the Munchkin Latch bottle is perfect for them. They are made of nipples that flex as the baby moves their head so as to maintain a good latch. 
The soft and round nipples also stretch like the breast to allow for the nipple to reach deep into the baby's mouth. Moreover the base of the nipple releases milk at the rate at which the baby puts pressure on it. Reducing choking or wasting milk via spills.
Moreover the Munchkin latch bottle has an anti colic valve at the bottom of the bottle to remove all excess air from milk. If you want to maintain a proper latch throughout feeding sessions highly consider Munchkin latch.
Pros
Super flexible nipple that stretches for a correct latch

Flexible nipple base to maintain latch

Round soft base that releases milk on pressure from baby's mouth

Easy to clean

BPA and phthalates free
Cons
Anti colic feature not super effective
When you want to make transitioning between breast and bottle virtually painless for you and your baby with trouble latching. We highly recommend Philips Avent Natural bottles for combo feeding.
The nipples have a wide breast shaped nipple to promote a natural latch like on the breast. They have an ultra soft nipple which mimics the breast and is made of food grade silicone safe for babies.
It also has an anti colic vent to release excess air from the bottle and reduce discomfort for you baby. And a flexible spiral design that ensures the nipple does not collapse as they feed.
What's more for mothers who want to avoid plastic Avent have a glass bottle version of these natural bottles. And the bottles can transform into a sippy cup or straw cup once you are done with bottle feeding, what's not to love really?
Pros
Wide breast shaped nipple like the breast

Ultra soft silicone bottles

Glass bottles available

Grows with baby- transitions into sippy cup

Anti colic vent

Easy to clean 

Ergonomic design makes it easy to hold

Different nipple teats available
Cons
---
See Also Alternative to Breast Milk Storage Bags
---
If you have tried all the named brands available in the market without luck for a bottle to solve weak latch problems. Hegen brand has come up with unique and innovative designs to solve such problems.
Do not throw in the towel just yet, Hegen bottles with their off center and elliptical nipples may just be the solution. The design exactly mimics the shape of the breast while promoting upright feeding hence reducing gas and backflow.
They also have a square shape that is super easy to clean and can be stacked for space saving. It is also very easy to close and open. And the no screw thread closure ensures no residue accumulates around the bottle.
Lastly, the bottles are safe for your baby and odor free too. Although the bottles come with a hefty price tag they can be transformed into storage containers for baby food to grow with your baby. 
Pros
Unique off centre and elliptical nipple design

Design promotes upright feeding

Super easy to clean, square shape

Odor free bottles
Cons
---
See also Are Comotomo Bottles Dishwasher Safe
---
Unlike all the bottles listed above Lansinoh Naturalwave nipples have a matte finish to them to help with texture problems and are way shorter too to avoid gagging. The nipple design is based on 50+ years of breastfeeding research.
So when for mothers on the brink of a mental breakdown, try these Lansinoh bottles. The nipple is not too round or two wide too. The baby can feed right away even by just using half of the nipple. It also allows your baby to feed without taking too much air.
Best of all, it has a three part system which makes it easy to clean and wide a bottle that dries up super quick. Highly consider these Lansinoh bottles as they are also not as costly.
Conclusion
The search for the magic bottle that your baby will latch on perfectly may take some trial and error. But you do not have to go blinded while at it. We highly recommend the Tommee Tippee Closer to nature as the best bottle for shallow latch.
It has all the important features to look out for is the nipple shape and size. It mimics the breast: short, soft, round and with a wide base soft.  Am sure your little one will latch onto it right away.