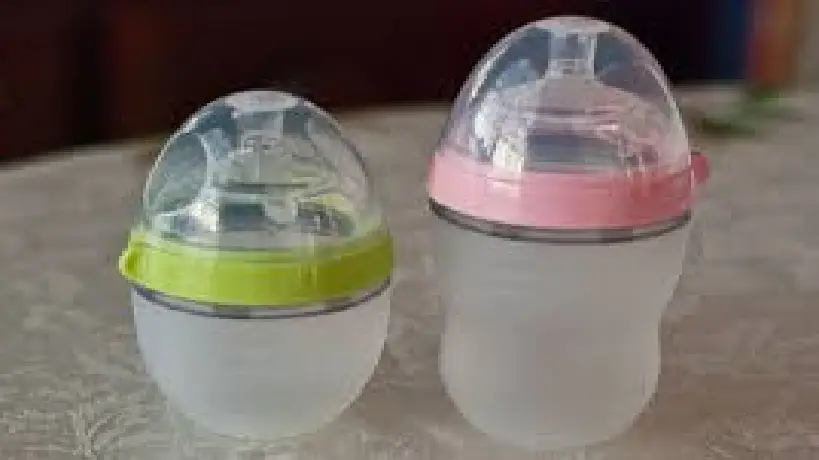 Chirpy Mama;

24 July, 2020

17 views
Are Comotomo Bottles Dishwasher Safe?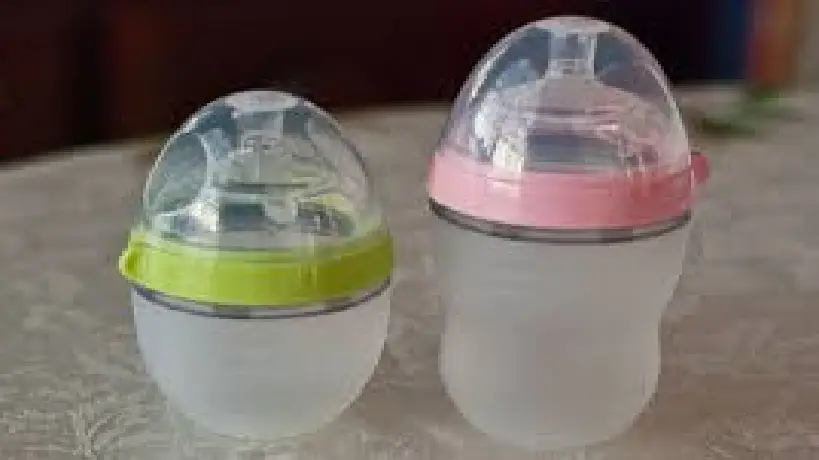 Comotomo bottles took the baby bottle market by storm. Frankly speaking, they deserve a shout out for solving some of the most common bottle feeding, cleaning and safety problems that moms face. 
But first , Are comotomo bottles dishwasher safe?
According to the manufacturers comotomo bottles are dishwasher safe. However, you must place it in the top rack away from the heat coils at the bottom of the dishwasher.
As much as the wide neck makes them very easy to clean by hand sometimes as a mom with an endless number of tasks to complete you just want to toss everything in the dishwasher. When it comes to baby bottles you must take extra care for them.
Read on to know how to safely wash your comotomo bottles in the dishwasher and how you can effectively clean and sterilize them by hand. In addition, at the end of the article we have included other common questions on cleaning comotomo bottles.
How to Clean Comotomo Bottles in Dishwasher 
Comotomo bottles are made of 100% food grade silicone which is a non toxic material unlike the common plastic junk used to make most baby bottles. And it is good to know, silicone is also dishwasher safe with the temperature limit being 180 degrees Celsius and 120 Celsius for the cap and ring made of plastic.
Thankfully too unlike most anti colic bottles with many parts to clean, comotomo have only 3 parts i.e the cap, ring and body because the vent systems are on the nipples.
So how do you clean comotomo bottles with a dishwasher?
Disassemble all the parts to wash them separately for effective cleaning.

Put the ring, nipple and cap in a dishwasher safety basket to avoid losing them and keep them away from the heat coils at the bottom of the dishwasher.

Make sure you are using a mild detergent and hot water to kill all germs and bacteria from the bottles.  Using a strong soap can erode the bottles because they are too abrasive,

Put the bottles in the top rack furthest from the heat coils to avoid damaging the bottles because they have a 180 degrees celsius limit.

You can choose to disinfect them by selecting the sanitizing setting or run a hot water cycle.

Once you are done, remove them and dry in a drying rack with a lid or on a clean piece of cloth.

However, you can easily sterilize and clean them using a bottle warmer
---
See also best milk storage bags for spectra s1
---
How to Clean Comotomo Bottles by Hand
Well, as much as comotomo bottles have wide necks to make them easy to wash by hand. Some of us cannot fit our hands in there, and a bottle brush cleans more effectively.
Do not use a teat brush to clean the ANTI COLIC VENT in the nipples because according to the manufacturer this can damage the system instead clean it using your fingers in hot water.
What's more, because comotomo bottles are made of silicone they dry pretty quickly compared to plastic baby bottles.
Make sure your hands are clean, just wash them with soap and water. You do not want to leave anything to chance when it comes to the cleanliness of your baby bottles.

First, separate all the three parts so that you can wash them separately.

Avoid cleaning the bottles in the kitchen sink. Instead use a small basin or bowl with hot water and a mild dish washer soap. Because using strong dish cleaners they can be too abrasive on the bottle.

Wash the parts using a your hands, if any formula particles have lodged in the bottle you can soak for some minutes to let it loosen up faster or run the parts under running water

Rinse the parts including the nipples under hot running water twice to thoroughly get rid of all soap.

Finally, dry them on a drying rack with a lid or on a clean dish cloth.
---
See also Can I use Dawn  Dish Soap to Wash Baby Bottles
---
Tips on Cleaning and Using Comotomo Bottles
It is very important for you to sterilize your comotomo bottles once you are done washing them. You can do so under the sanitizing cycle in the dishwasher.

Keep the bottles away from the bottom of the dishwasher because you will risk damaging them.

If you are not planning on cleaning your bottle immediately after feeding, you can place it in the fridge to avoid formula sticking on the parts which make cleaning a tid bit difficult

Comotomo bottles can be hard to warm in comparison to regular plastic baby bottles because they are made of silicone material. And it is not advisable to warm bottles in the microwave , getting a bottle warmer is a quick way to do so, while sterilizing the bottle at the same time.
---
See also Alternative to breast milk storage bottles
---
More on Cleaning and Sterilizing Comotomo Bottles
Can Comotomo Bottles be UV Sterilized?
Sterilizing baby bottles for babies below 1 year old is very important, it will keep mold, bacteria and germs. According to the manufacturer, you should NOT UV sterilize comotomo bottles because prolonged exposure of comotomo bottles can lead to degradation of the material.
Below are the methods they recommend for sterling comotomo bottles. Placing the bottles in boiling water for 5 minutes. Using steam sterilizers. On the top rack of a dishwasher away from the heating coils
Comotomo Bottles turning Yellow?
According to the manufacturer comotomo bottles do run the risk of getting discolored in the case of heavy use or sterilization. This is one of the reasons they advise parents to clean the bottles thoroughly after every use and to sterilize the bottles at least once per week or when the baby is sick to get rid of the germs.
You can do so by placing the bottles in hot water for 5 minutes or using steam sterilizers to avoid discoloring the bottles.
The most common cause of leaking for comotomo bottles is wrong assembling of the bottles. You can easily fix this by ensuring the nipple and ring click while assembling the two parts. Next tightly fit the body of the bottle to the top anticlockwise until tight. 
Conclusion
Before purchasing comotomo bottles most moms want to know are comotomo bottles dishwasher safe? Well comotomo bottles are dishwasher safe but you must place them in the top rack away from the heat coils at the bottom.