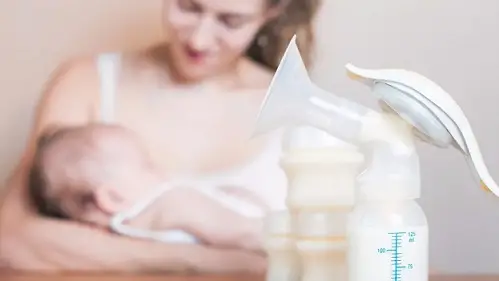 Chirpy Mama;

1 September, 2020

17 views
Alternative to Breast Milk Storage Bags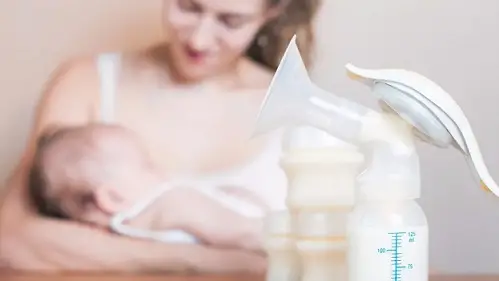 As a pumping mama, you want to store your precious milk stash in a safe and secure storage. The common storage used are plastic bags which are costly, unsafe for baby milk and not environmentally friendly.
If you are looking for an alternative to breastmilk storage bags, there are several you can use at home. They include glass storage bottles, silicone freezer tray with clip on lid, reusable silicone pods, leak proof storage containers and wide neck bottles.
These are safe for storing breast milk, reusable and easy to clean. Let's look at each to determine the best option for you.
5 Alternatives to Breast milk Storage Bags
Wide neck glass bottles are a great alternative to plastic storage bags. They are compatible with most breast pumps like the spectra and phillips so you can pump directly into them. After which you can freeze and feed your baby eliminating any losses. 
Using glass is also much healthier and safe for your baby. Because glass is less likely to hold on to odors and residue. Plus the markings don't wash off easy and  are more accurate compared to the plastic bags.
You also don't have to worry about leaks and wasting your hard work. The bottles have a silicone sealing disc and screw on- lid for a tight leak proof closing. Which is so much better than plastic seals used in bags. If you want a safe and easy to clean alternative – glass bottles fit the bill to the T.
If you are all about eliminating use of plastic for your baby items, silicone is another good option. What's great about it is that silicone is odor, bacteria and stain resistant. And because one of the most popular baby bottles -comotomo are made from silicone, the combination works great.
You freeze the milk in the trays which are reusable, then transfer the cubes in freezer bags. Once you want to feed, you pop the amount you need and thaw in your  baby bottle.
The silicone tray comes with a clip on lid to prevent any leaks, freeze nice and easy to pop out. You can be used later for freezing baby purees. They are dishwasher safe and do not come with any harsh odors.
Another zero waste milk storage option is the use of silicone pods. You only need to attach a breast milk adapter to pump directly to the pod. Then you freeze or store in the refrigerator until you're ready to use.
The advantage is that breast milk warms up faster in pods than in a regular bottle. Place the pod in warm water and place the pod in a baby bottle for feeding. The pod works great for travelling unlike using disposable liners.
Consider using silicone pods for breast milk storage to replace throw away plastic liners. Plus they work so well for acid reflux because they don't trap in any air. Your baby will have no problems using these.
---
See also Can I use dawn dish soap to wash baby bottles
---
Reusable breast milk storage containers are more economical compared to using disposable bags. In addition you run a lower risk of spilling cases as compared to the thin flimsy plastic bags. They are also perfect for pumping and feeding.
One of the best are made by Madela which is a leader in the breast pump market. They have a capacity of 2.7ounces which is not much. However, they work perfect for moms who are formula feeding and only supplementing with breast milk.
The containers have a curved bottom to minimize loss and can easily be cleaned with a bottle brush. They are also well calibrated in ml and ounces for easy reading. Best of all the containers are versatile and can be used for drinks, soups etc
---
See also swim diaper alternative
---
Unlike all the items on this list, these are wide neck storage bottles for pumping and storing breast milk. They are compatible with all avent  and all spectra pumps. These will work great for daycare as compared to plastic bags because they are more secure.
They feature a 100% silicone leak proof cap- so you can be worry free about spills. Best of all is the silicone top cap can be marked with a ball pen for recording the dates and name of your baby. The marking comes right off when cleaning.
The wide neck storage bottles are top rack dishwasher safe. All the parts are removable for cleaning and sterilizing in hot water. This way you avoid any mildew growth and keep your bottles safe for breast milk. They will work great for daycare because the teachers can pour as much as they need without leaks.
---
See also best milk storage bags for spectra s1
---
What to Consider in an Alternative to Breastmilk Storage Bags
Look out for the following when shopping for a better option for your liquid gold storage.
Material 
Look out for materials which are mold, stain and odor resistant. Silicone and glass are good examples.
Zero Waste Breast Milk Storage
You should consider using a zero waste storage container for your breast milk. As much as plastic breast milk bags are cheaper, they are not reusable. Zero waste options include glass bottles, stainless steel bottles and mason jars.
Best of all ,consider getting a container in which you can pump, freeze and feed without needing to transfer the milk. This will eliminate losses, chances of contamination and reduce items needing cleaning.
Size
If you are looking to build a stash and agave limited freezer space. Consider using silicone trays for freezing milk cubes which you can thaw. Options like bottles are more bulky in comparison.
Leak proof
Because you do not want to cry over spilt milk, get a container that is leak proof. If it's a bottle it should have seal discs for a more secure fitting.
Ease of cleaning
go for wide neck bottles or options with removable parts for cleaning and sterilization. 
Conclusion
For mamas keen to save and use better materials than plastic breast milk storage bags. There are viable alternatives to use such as glass bottles, silicone pods, reusable silicone trays, wide neck storage bottles and breast milk storage containers.
When shopping for the best option for you, consider the material, size of the container, anti leak guard and ease of cleaning. Importantly, you should be able to pump directly into the container with an adapter for convenience.